10 Must-Have Tools For Beginner Woodworkers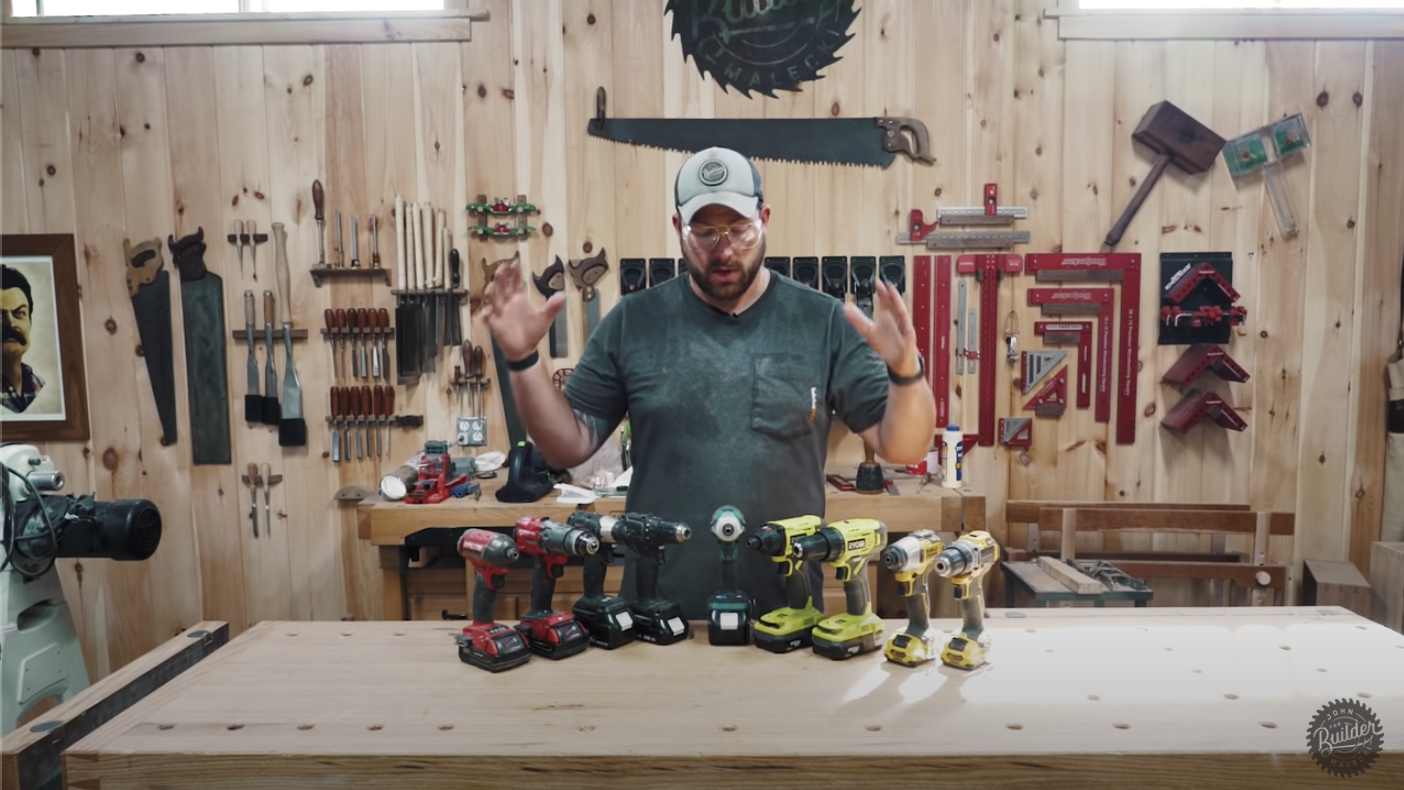 I love you guys. I read all of your comments and DM's to see what content you want me to post and to answer any questions you guys might have. From these interactions, I've found that a lot of you are beginners who are looking to get more into shop work. And so, I decided to make this video on my top 10 tool recommendations for beginner woodworkers. 
If you're a beginner woodworker, you will want to check out this video! Start watching now to see my top recommended tools. 
10 Must-Have Tools For Beginner Woodworkers
In this video, I'm going to break the 10 tools into two separate groups. 
First Set of Tools
1. A Drill
The first tool I suggest for any workshop or homeowner is a drill. I enjoy using 12-volt drills for smaller projects. 
2. Circular Saw
You've got a ton of options to choose from, such as the 7 ¼ in standard, sidewinder saw, and rear-handled worm-driven saws. Get whatever you can afford. I recommend the 7 ¼ in saw that you can plug into a wall. 
3. Clamps
The first type of clamp I ever purchased was the F-style clamp. It is versatile and affordable. They aren't considered to be the best clamps, but they get the job done!
4. Table Saw
In terms of woodworking, the table saw is the most versatile tool in the shop. Get a table that is small, portable, lightweight, and easy-to-use. 
5. Planer
The planer is the tool that makes your wood parallel. You can adjust the thickness of your materials to your desired size. 
Second Set of Tools
After you purchase that first set of tools, you can go ahead and order this second set of tools. But you need to order the first set before this one. 
1. Jointer
The jointer creates a flat surface to work on. If you have rough lumber, you can use the jointer to smooth it over.
2. Pocket Hole Jig
I hate the pocket hole jig — but only because people tend to misuse it. If you know how to use it right, it can be a valuable tool in your arsenal. 
3. Miter Saw
The miter saw is pretty common because it is such a great tool. There are a ton of options out there you can try. 
4. Router
The router can be a terrifying tool. That's why I keep it low on the list. However, it is the most versatile tool in your shop. 
5. Drill Press
Drill presses are pretty affordable in the used marketplace and offer a great deal of versatility for your woodworking. Once you get one, you'll wonder what you did without it. 
Don't forget to follow along with my video for an in-depth review of all of these tools! 
Tools and Materials
John Malecki Reviews the Tools and Materials He Used for This Build
I want to give a shout-out to Woodcraft for sponsoring this EPIC video series. Woodcraft is the go-to destination for the best power tools and accessories in the country. For your next big woodworking project, make sure you head to Woodcraft for all of your supply needs. I also want to thank Timberland PRO for always supporting my crazy woodworking projects and being my number 1 resource for durable, high-quality boots. 
BITS & BITS
Recently, I partnered with Bits & Bits. For over 30 years, Bits & Bits has manufactured top-of-the-line CNC cutting tools for woodworkers like you and me. You can use my link to check out their stuff and get 15% off your next purchase with code MALECKI15. 
Tools and Product Affiliates
Check out some of my top tool suggestions and product affiliates here. 
- Better Drill & Impact Driver 
- Clamps 
- 12" Compound Sliding Miter Saw 
Extra Supplies
Check out some of my merchandise, build plans, and go-to safety glasses.
- Plans 
---