10 Must-Have Tools For Beginner Woodworkers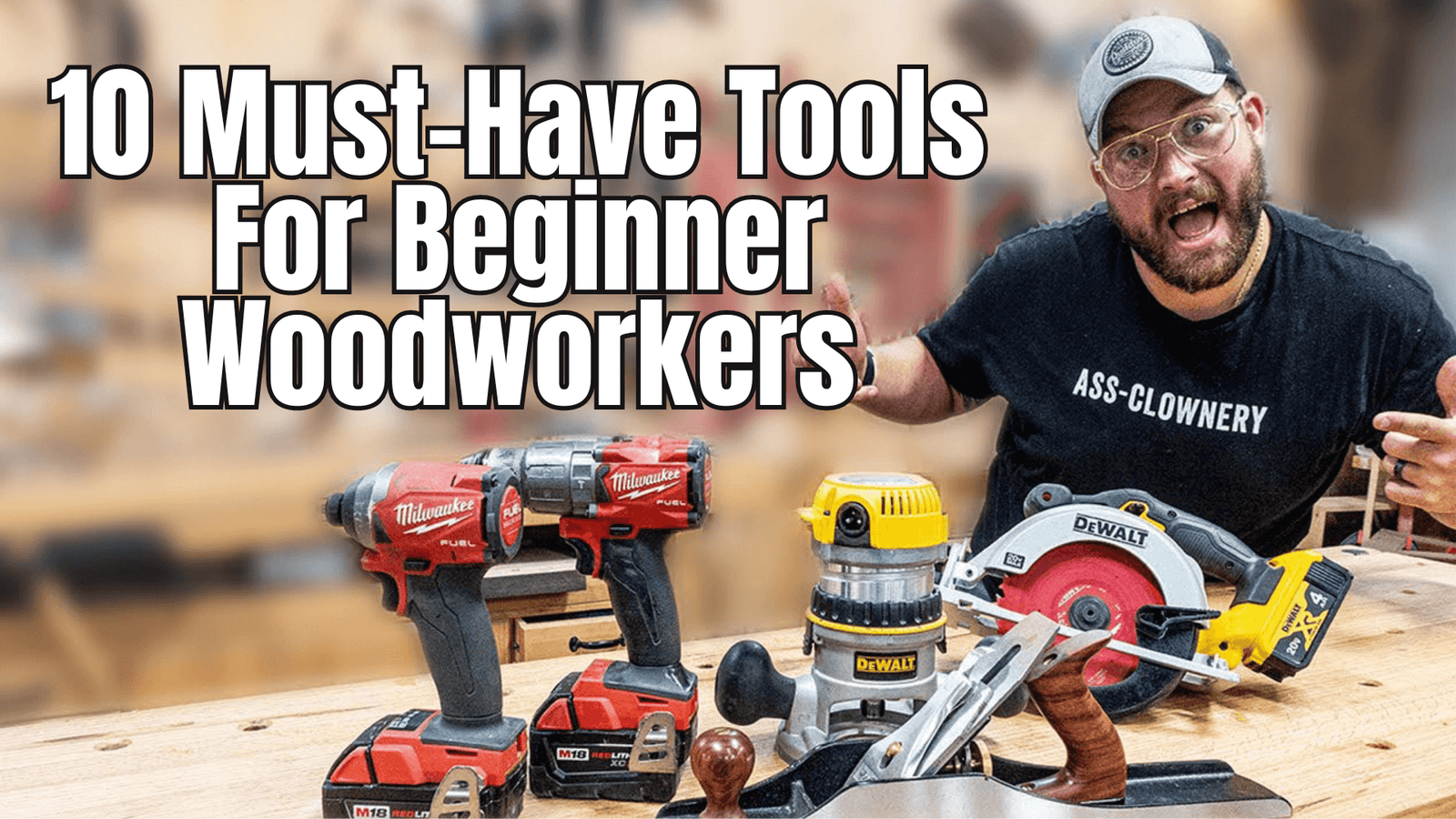 10 Must-Have Tools For Beginner Woodworkers
Before diving into this list, we're going to assume that you already have a few items. These assumed items include: a tape measure, a square, some sort of straight edge, pencils, and glue.These treasured workshop items will not be included with the beginner tools I'm going to recommend. Instead, we're going to discuss the next level of tools that belong in everyone's workshop.  So let's get into it.
Drill
The first tool that I suggest for pretty much any workshop, woodshop or homeowner is going to be a drill. 
One of the most versatile components of this tool is the chuck.  It allows you to put drill bits, driver bits, and much more into your drill.. This allows you to use your drill for a multitude of tasks, basically making it several tools in one. Also, it has variable speeds and variable options for drilling. Some even include an option  hammer drilling in masonry applications. Along with speed control, drills also have clutches which limit the driving force being applied to the bit. This can be especially handy when sinking screws to a specific depth. 
This is a very affordable tool, usually starting around fifty dollars. Pretty much every major tool brand carries their own rendition of a drill. They're available in 12-volt systems for smaller DIY type projects or 20-volt systems for more substantial work. But if you're looking to get into them yourself, consider the battery platform you want to be on long term and buy that first.
Circular Saw
Nearly just as essential as the drill, the circular saw is another tool that belongs in the hands of every beginner. They are offered in both battery-powered and corded options. Also, they are sold in a variety of sizes, ranging from 4 ½" to 16". I suggest starting with a 7 ¼" circular saw due to its versatility and availability. This will allow you to make most cuts associated with smaller novice-friendly projects. 

These saws are used to quickly dimension construction-grade materials. However, with the addition of a straightedge, they can be used to make very precise cuts in a multitude of materials. Whether you're framing, building furniture, or chopping up some scrap wood for a fire, you can get it done with the circular saw.
Clamps
The next tool that I suggest for all beginners is going to have to be the clamp. There are several different types of clamps I use within my shop; however, I would recommend starting out with f-style clamps and pipe clamps.
F-style clamps have a variety of uses within the workshop. Their sliding mechanism allows them to be adjusted quickly, and their threaded shaft allows them to be tightened with a great deal of pressure. Offered in different sizes ranging from 4" to 36," f-style clamps can be used for glue-ups, holding jigs in place, attaching workpieces to the bench, and much more.
Pipe clamps can help beginner woodworkers glue up large panels without breaking the bank. These clamps are usually sold with the clamping fixture and pipe separately. Once you purchase the fixure (the part that allows the clamp to lock in place and apply pressure), you can add it to any length of ¾" black steel pipe to create your clamp. This will give you the ability to glue up panels of any width.
Table Saw
Arguably the most important tool in the shop, the table saw is my fourth pick for woodworkers beginning their journey. I have what's considered a cabinet table saw. This is a professional-grade table saw that has ample power, accuracy and versatility. However, I along with most woodworkers began by using a jobsite table saw. 
Jobsite saws are small, lightweight, portable, and easy to use. They are offered in battery and corded options using either 8 ¼" or 10" blades. Despite its size, this saw can accomplish most of the same tasks as a pro-grade model. Also, the addition of an outfeed table provides a huge upgrade to this tool. If you're looking to make this addition to your table saw, consider checking out some of the outfeed table plans available on our website. 
Planer
The planer is a must have for any aspiring woodworker. An absolute necessity in the process of milling, the planer is used for reducing the thickness of your workpiece. Similar to the tablesaw, these tools are offered in both jobsite and professional-grade models. The jobsite models main limitations are width and power; however, this shouldn't be a problem for most beginners. 
The planer is the tool that makes your woodparallel, but not flat. YThis is a very important concept to understand before using this tool because it means you'll need at least one flat side to your workpiece. If you don't have access to a jointer, you may want to consider purchasing S4S lumber that has already been surfaced.
Jointer
Going hand in hand with the planer, the jointer is another great pick for beginner woodworkers. Jointers are used to create a flat surface on your workpiece. Like previously mentioned tools, these are offered in several different sizes. I would recommend starting with a small 6" or 8" model. 
This tool can be used for face jointing (creating a flat face) prior to thicknessing your workpiece with the planer. Also, it can be used for edge jointing (creating a flat/straight edge), which provides you with a perfectly straight edge to ride against the fence of your table saw. The joiner is a machine that's pretty basic and you can pretty much get a decent quality one on the used marketplace.
Pocket Hole Jig
For those new to joinery, the pocket hole jig is a great tool for beginners. This jig allows you to bore perfectly angled holes to join together wood with hidden screws. This can be great for cabinetry, face frames, and general plywood construction. 
Kraig makes a multitude of pocket hole jigs for different applications, and they are sold at most hardware stores. For under forty dollars, you can pick up one of these kits and begin building. Just don't abuse it by trying to build a farmhouse or trestle style table with pocket holes.
Miter Saw
The miter saw is an extremely common saw and in pretty much every shop and garage across the country..  They are available with blade sizes ranging from 7 ¼" to 12". Some have sliding and multi-bevel capabilities. Nearly every tool brand offers a miter saw, and they all cut pretty comparable with one another. 
I'd recommend starting with a 10" sliding compound miter saw. The sliding function allows you to cut boards that are wider, unlike its non-sliding counterpart. Also, the 10" blade gives you the ability to cut thicker stock. These blades are much cheaper than 12" blades, so your wallet will thank you when it comes time to replace it.
Router
I may receive some pushback for this next pick, but I believe that the router is a tool that belongs in the hands of a beginner that's becoming more comfortable with tools. The reason I have the router kind of this low on the list is because it's a terrifying tool. Having a cutter head spinning at thousands of RPMs in your hand can be intimidating for the uninitiated. That being said, the router is probably the most useful tool a woodworker can become familiar with.

Routers are offered with either a ½" or ¼" collet (metal sleeve put around a shaft to hold the bit) on a fixed base or a plunge base. Different routers are used depending on the application. There are an endless number of bits that allow you to add profiles, create joints, remove material, and much more. I'd recommend starting out with a ¼" palm router to get comfortable with the tool before moving on to a larger ½" router.
Drill Press
Last, but certainly not least, is the mighty drill press. This tool allows you to create perfectly straight and clean holes. Also, its adjustable table makes it easy to set up jigs for repeatable and accurate hole drilling. 
This is somewhat of a timeless tool with very few upgrades being made throughout the years. So, I recommend searching the used market to try to save a few bucks. Both benchtop and floor models are readily available on Facebook marketplace for an affordable price.  
I understand it can be intimidating to get into woodworking and confusing, but hopefully this cleared some things up for you guys. Also, if you want to support the channel, feel free to check out our merch and shop plans available on our website. Until next time, keep on building!
---