3 Levels of Cutting Boards — Beginner to PRO Build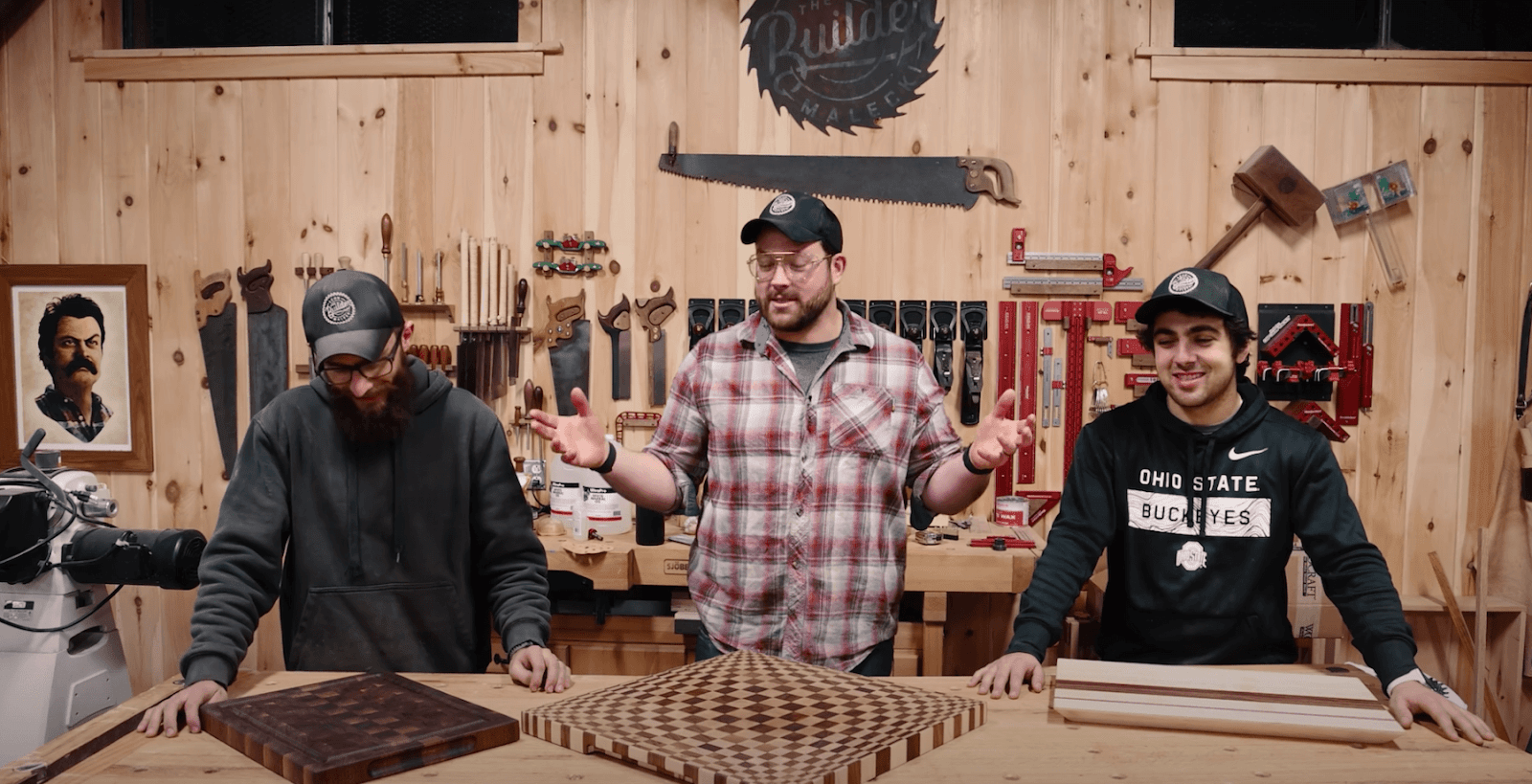 We know every woodworker in the world has built a cutting board before, so we decided to show yinz three ways we decided to make them. The clowns and I split up to create our own boards to show you what can happen at different levels. Jordan will be our beginner, Sam is our intermediate builder, and I am (of course) the pro builder. Strap in and get ready to learn how you can master the cutting board, no matter how long you've been using power tools. 
3 Idiots Build 3 Different Cutting Boards
The boys show us how to master the cutting board build with different difficulty levels. 
Jordan used scrap wood from around the shop to make this quick, easy, and fun cutting board. He cut up different colored woods, planned them out into a pattern he liked, glued them together, and let them sit overnight. To finish it up, he sanded it one last time and covered it in oil to make sure it looked nice and smooth — it was that simple. Sam's was a little more complicated, which makes sense since it's the intermediate level. He incorporated a juice groove, walnut wood, and handles. He milled his wood to make perfect squares, glued them together, and then made a lot more squares within a square.
As a pro, I had to show these boys what is up. I went extravagant with the design and used some leftover wood pieces we had in the shop. There is not only a lot of wood involved but also a lot of glue. It turns out pretty EPIC if I do say so myself, after making only a few minor mistakes — whoops. Whose board do you think came out better? Watch the full video and let us know what you think in the comments! 
Tools and Materials
John Malecki not only tells us what tools to use, but he also shows us where to buy them. 
Below I left a list of all the tools we use in our shop for almost every build, but I wanted to highlight Bespoke Post for all the hard workers who deserve a gift. If you are looking for a way to receive cool products every single month to treat yourself, Bespoke Post is perfect for you. It is curated towards your style and preferences, shipped directly to you, and gives you an excellent price cut on the products. They've got tons of categories to choose from, like cigars, liquor, cooking, the outdoors, and more. Get 20% off your first monthly box when you sign up! 
Top Tools and Product Affiliates
Check out some of my top tools and product affiliates here. 
Extra Supplies
Check out some of my merchandise, build plans, and go-to safety glasses.
- Plans 
Thanks for watching and supporting me! If you liked this project, be sure to check out my merch and other projects here: 
‍
---