Building an EPIC DECK — Part 3 Decking and Waterproofing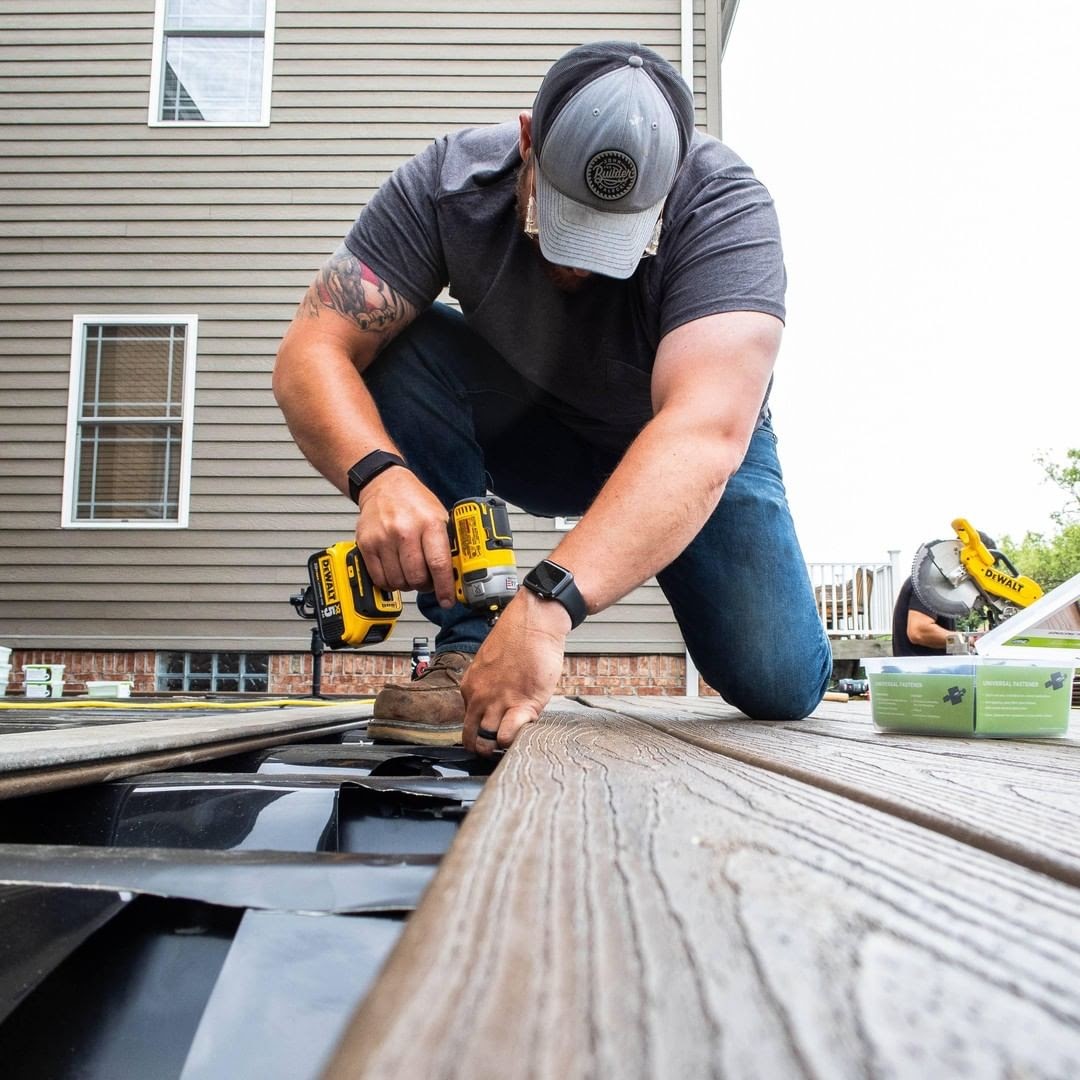 For part 3 of my epic deck-building series, I dive into my waterproofing system. But as I continue to lay down my decking, I come across the consequences of my own poor planning. 
In this video, I used to TREX rain escape system and the TREX Transcend® series decking in spiced rum. The TREX decking was super easy to work with, fastened down well, provided the perfect gap built into its clips, and required no pre-drilling or plugs. 
So follow me as I take on part 3 of my deck-building series! If you're following along at home or want to try it out for yourself, be sure to take a look at my video below.
DESTROYING My Backyard - EPIC Deck Series Part 3
First off, I start with the blocking. For this, I ripped some strips that are basically 2x4's. These blocks give the railings on my deck something to screw into. I also flat block my deck to give me somewhere to screw my picture-framed edge in. This is key for the rain escape and as well as mounting anything else on the edges. 
Next up, I did some waterproofing. During this part, I installed the troughs from the TREX rain escape system so I could divert all of the water from underneath the deck to give me some dry storage. Then, I began to build the top of the deck. This part didn't continue without its bumps and mistakes, but we pushed through it. 
For the Trex RainEscape system, there are a couple of ways to install the system on a deck that is longer than 19 feet.  The preferred way is to install two systems and have the water drain to both sides of the deck making for an easier install and doesn't over load the gutter line.  The other way is to run one long trough and add a cantilever from the back side (maximum 4'). Click here for the full installation manual for Trex RainEscape or give these guys a call (1-877-348-1385) and they will talk you through your installation.
Don't forget to follow along with the full video and watch this epic build go down. Throughout the video, I go through the how's and why's of my decisions. 
Tools and Materials
John Malecki Reviews the Tools and Materials He Used for This Build
My videos are proudly sponsored by Woodcraft — a top destination for the best power tools and accessories in the country. For your next big woodworking project, make sure you head to Woodcraft for all of your supply needs. I also want to thank Timberland PRO for always supporting my crazy woodworking projects and being my number 1 resource for durable, high-quality boots. 
Pit Boss
This video was fueled by Pit Boss. Pit Boss offers wood pellet grills perfect for backyard BBQ parties and outside dinners. Cooking tools, cast iron cooking supplies, and fuel are also sold to help you BBQ some delicious ribs and hamburgers as you bask in the Pittsburgh heat. 
As part of my current giveaway, you can enter to win a Pit Boss Pro series combo now. The content ends August 10th and the winner will be announced on August 12th. 
TREX
My TREX decking tools were extremely helpful in moving this project along at a decent pace. I used premium Trex Transcend® decking in spiced rum and I gotta say — it looks amazing. In addition to its good looks, this decking will last for a long-time without requiring any maintenance for several years.  
Tools and Product Affiliates
Check out some of my top tools and product affiliates here. 
Deck Series
Here's what I used to build my epic new deck. 
- Simpson Strong Tie Deck Software
Extra Supplies
Check out some of my merchandise, build plans, and go-to safety glasses.
- Plans 
Deck Build Parts 1 and 2
Don't forget to check out the rest of my Deck Series videos: 
- Building an EPIC DECK Pt. 1 — Demolition 
- Building an EPIC DECK Pt. 2 — Framing
---