Building an EPIC DECK — Part 4: Stairs & Railings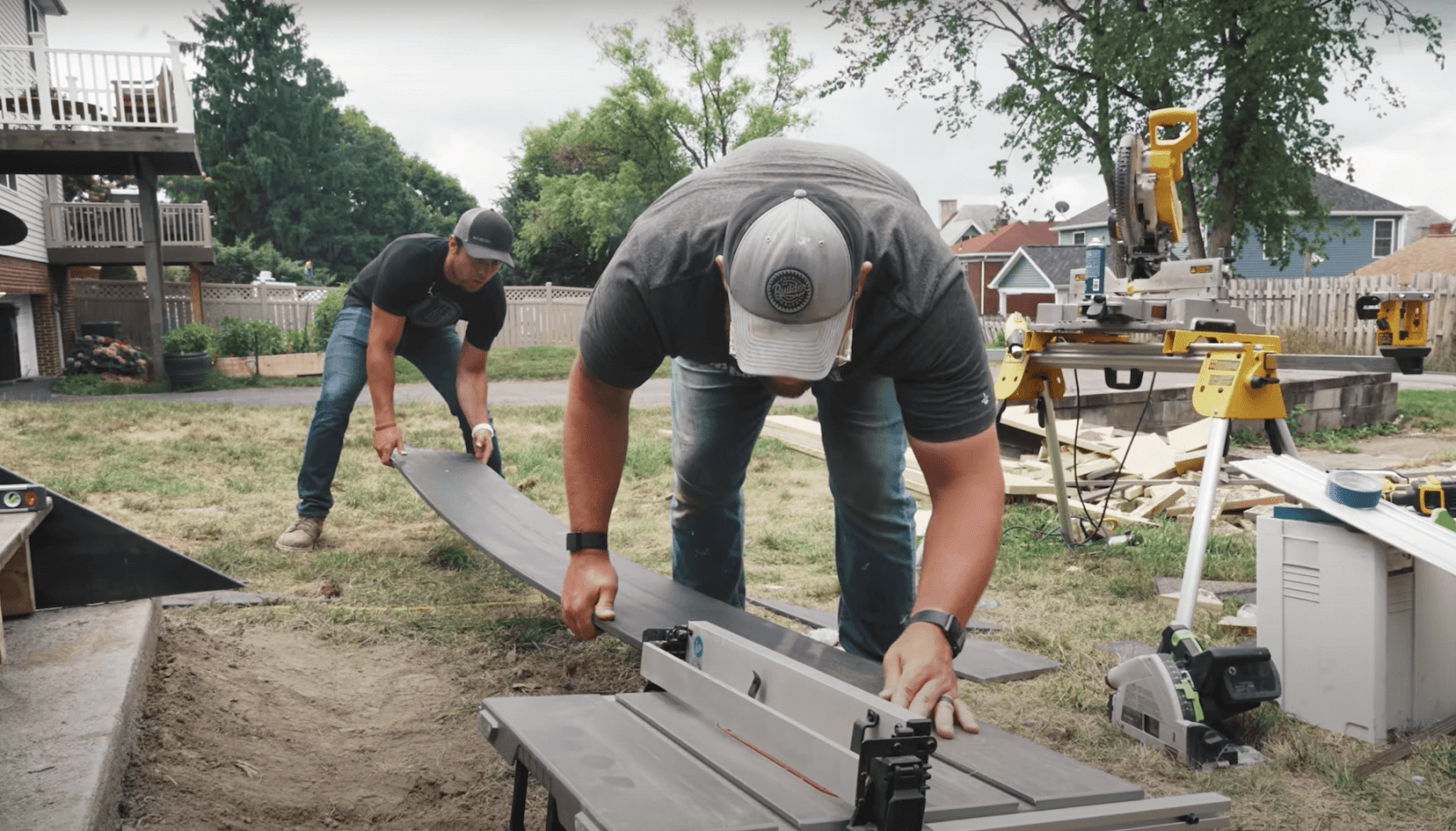 It's finally time to get into part 4 of my EPIC deck series! For this part, I installed the stairs and railings onto my deck. I also get into the fascia board. I was pumped to finally getting the outside of my deck looking pretty after getting the rain escape and decking down. Along the way, I ran into some building issues and hiccups. But what else is new?
So follow me as I take on part 4 of my deck-building series! If you're following along at home or want to try it out for yourself, be sure to take a look at my video below.
Building an EPIC DECK — Part 4: Stairs & Railings
So, starting off on part 4 of my EPIC deck building series, I needed to set the rise and run for the steps. To do this, I poured a new pad where the steps would land on. Once I finished pouring it — and setting my adorable dogs' paw prints in it — I used it to help measure the run for the stairs. After I measured the rise of the deck, I used Decks.com's tool to calculate the exact measurement of the run. Based on the app's calculations, I started laying out the stairs for my deck. Pretty simple, right?  
Don't forget to follow along with the full video and watch this epic build go down. Throughout the video, I go through the how's and why's of my decisions. 
Tools and Materials
John Malecki Reviews the Tools and Materials He Used for This Build
I want to give a shout-out to Woodcraft for sponsoring this EPIC video series. Woodcraft is the go-to destination for the best power tools and accessories in the country. For your next big woodworking project, make sure you head to Woodcraft for all of your supply needs. I also want to thank Timberland PRO for always supporting my crazy woodworking projects and being my number 1 resource for durable, high-quality boots. 
Pit Boss
This EPIC DECK SERIES was fueled by Pit Boss. Pit Boss offers wood pellet grills perfect for backyard BBQ parties and outside dinners. Cooking tools, cast iron cooking supplies, and fuel are also sold to help you BBQ some delicious ribs and hamburgers as you bask in the Pittsburgh heat. 
Tools and Product Affiliates
Check out some of my top tools and product affiliates here. 
Extra Supplies
Check out some of my merchandise, build plans, and go-to safety glasses.
- Plans 
Deck Build Parts 1, 2, and 3
Don't forget to check out the rest of my Deck Series videos: 
- Building an EPIC DECK Pt. 1 — Demolition 
- Building an EPIC DECK Pt. 2 — Framing
- Building an EPIC DECK Pt. 3 — Decking & Waterproofing
---