Buying Some HUGE Slabs for a New Project!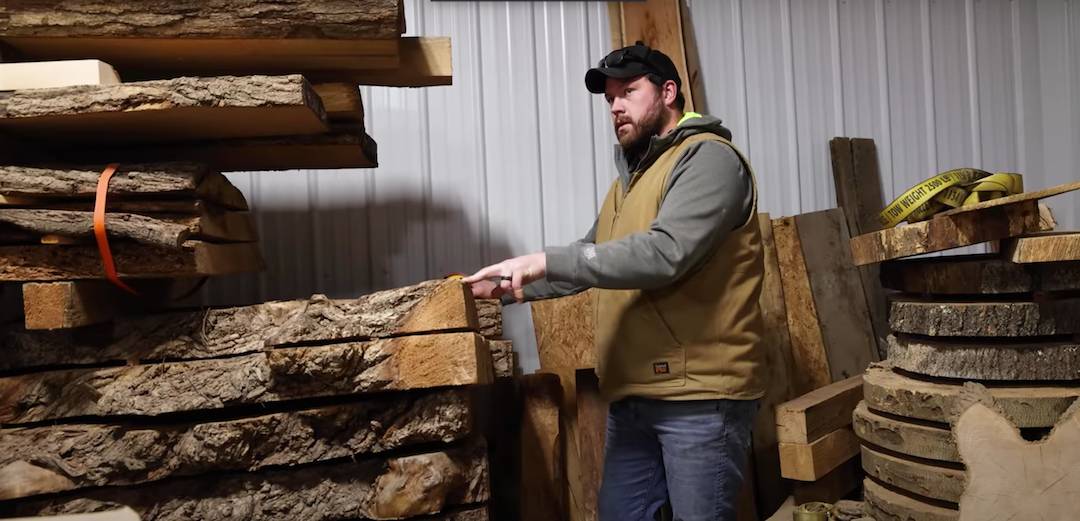 When we heard the plumbing company that moved into the dream shop needed a new conference room table, we said the Squirrely Squad is up for the challenge! Before we can get started on the table, we need to find the best wood to get the job done. That's why we headed out to Jason's mill to scout for the perfect slab to get this project started. How'd we make out? You can find out by watching the full video on my Youtube channel! Stay tuned to future videos to see how we turn our willow slab into a brand new conference room table.
How to Buy Wood Slabs for a New Table Project
Find out how we chose the perfect slab of wood from a local sawmill
For this project, we're building a custom conference room table for the plumbing company next door. Based on the approved design, we needed to start looking for the perfect slab of willow to get this table started.
So, we set out to Jason's mill about an hour away to see what he's got. But, we didn't make it there without a food and fuel boost, courtesy of Sheetz. When we arrived at Jason's, me and Jordan were impressed by the selection of wood. We got to work inspecting the edges, knots, and evenness of each piece before we decided on the one we wanted to use to build the conference table. We chose a slab that will work well for important meetings, while also having enough character around the edges. Jordan and I had such a good time in Jason's shop that we started thinking about starting our own sawmill!
Though we've never worked with willow before, we're sure that this is the best slab for the project. Before we left, we took a final outdoor visual inspection before taking the slab back to the Dream shop. Then we started some preliminary sanding. We'll be updating you Squirrely folks as we make more progress on the table in the future.
Tools and Materials We Used
Find out what we used to get started on a new conference table for our neighbors
First things first, we wouldn't have made it to Jason's sawmill without stopping at Sheetz. After we got the travel essentials and arrived at the sawmills, we measured each willow slab to make sure it's the right size for a conference table. Before we arrived at the sawmill, Jason cut the willow trunks into slabs using his Woodmiser LX 250. He swears by the Woodmiser and it definitely turned out some excellent slabs of wood. After we selected the best piece for our project, we picked it up on a forklift and transported it outside using a rolly table. Once we visually inspected the slab, it was time to take it back to the Dream Shop and get started prepping the wood. We chiseled off the bark on the edges and then started sanding the especially sharp parts that were exposed.
That was about all we had in us for one day! We'll be back at yinz with an update coming soon!
Top Tools and Product Affiliates
Check out some of my top tools and product affiliates here. 
Extra Supplies
Check out some of my merchandise, build plans, and go-to safety glasses.
Check out more of our sawmill videos 
Thanks for watching and supporting me! If you liked this project, be sure to check out my merch and more from the dream shop!
---