CRAZY Difficult Rocking Chair Build for My New BABY!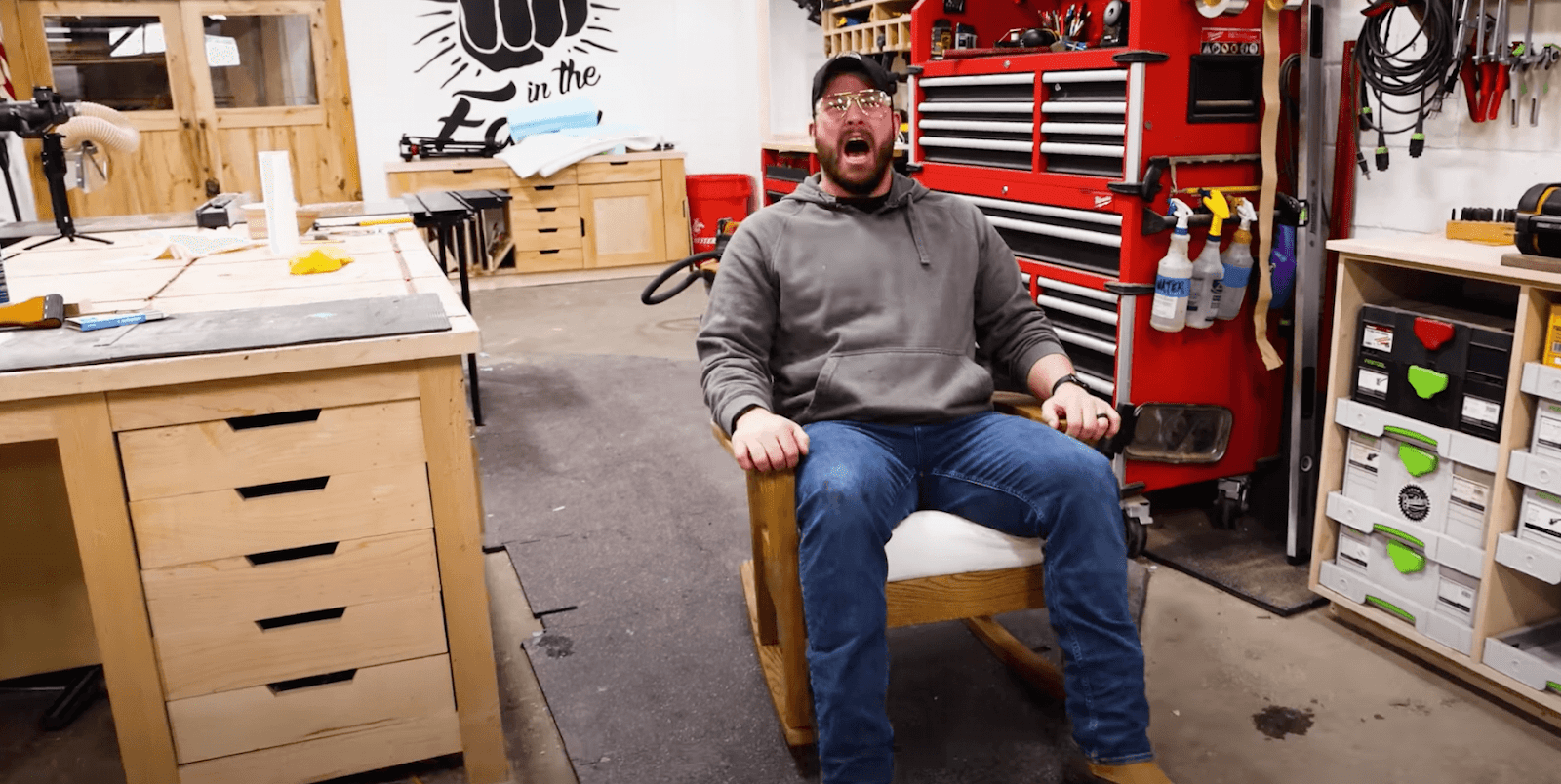 With the baby due any day now, I wanted to design something EPIC and maybe a tad absurd. Most things for babies are cribs and changing tables, which are just not that exciting. Instead, I decided to build the coolest rocking chair for my amazing wife and our little bundle of joy. This rocking chair is the MOST important build to date — no pressure or anything. Find out if we managed to make a rocking chair that doesn't break when you sit on it by watching the full video. 
My First Dad Bod — No, I Mean Dad Build
John Malecki shows you how to build the most epic rocking chair.
Step 1: learn how to read. We bought a project plan to base our rocking chair on since they are pretty hard to build. After we figured out how to read and understood what our plan said, it was time to start cutting. We had a minor mix-up with the wood (thanks, Jordan), but it was pretty smooth sailing after that. I say "pretty" smooth because what's a John Malecki build without getting a little squirrelly? 
None of us had done anything this complicated before. We had angled tenons and mortises, radius shoulders, and we weren't sure how to utilize the tools the plan instructed us to use. We adjusted to the tools we were more comfortable with to make sure we didn't mess this up. Did it work out in our favor? Find out by watching the entire episode.
Tools and Materials
Check out what tools John Malecki recommends for your next build. 
For this complex build, we decided to start with a project plan. The plan mapped out the measurements and basics we needed to get the rocking chair together. We started rough sawing with a man saw and kept sizes precise with a ruler. The plan called for a hollow chisel mortiser, but we swapped that out for a PantoRouter. Below, I've also listed my go-to products for this build and every other build we do! 
Top Tools and Product Affiliates
Check out some of my top tools and product affiliates here. 
Extra Supplies
Check out some of my merchandise, build plans, and go-to safety glasses.
- Plans 
Thanks for watching and supporting! If you liked this rocking chair project, be sure to check out my merch and other projects here: 
‍
---