CRAZY Epoxy Tree Table Build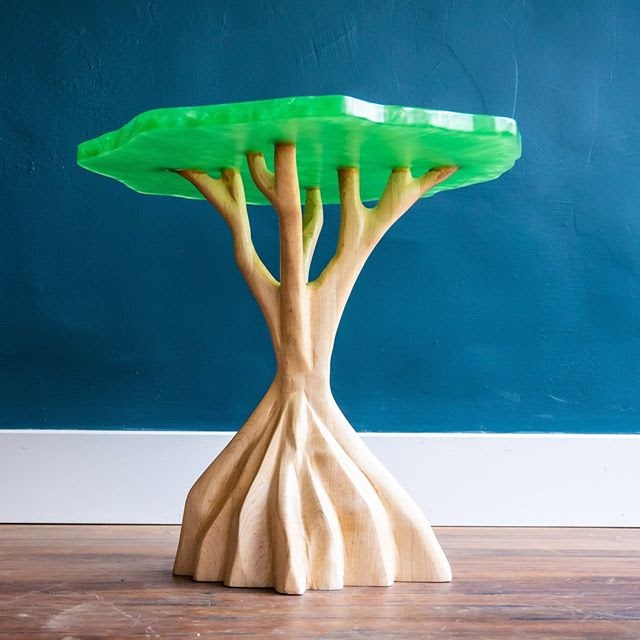 After I finished building my Epoxy Lava Table and Epoxy Waterfall River Table, I already knew I wanted to make an Epoxy Tree Table. I'm going for an Earth, Wind, and Fire vibe. But since I can't 3D model it, I'm going to be winging most of the steps. So make sure you follow along with my video now! 
EPIC Live Edge & Epoxy Reception Desk Build
To start, I'm going to cut up some maple wood slabs and glue them together. Conceptually, I want my table to resemble the tree people from Lord of the Rings. So I'm going to make the pieces flow out and away from the center. To achieve this look, I'm going to make a light outline of the "tree" on a piece of paper to set them on before gluing them together.
This project really pushed my skills to the limit. But I'm pretty satisfied with the results. 
Make sure you follow the rest of my EPIC video now!  
Tools and Materials
John Malecki Reviews the Tools and Materials He Used for This Build
I want to give a shout-out to Woodcraft for supporting my EPIC build series. Woodcraft is the top destination for the best power tools and accessories in the country. For your next big woodworking project, make sure you head to Woodcraft for all of your supply needs. I also want to thank Timberland PRO for always supporting my crazy woodworking projects and being my number 1 resource for durable, high-quality boots. 
BITS & BITS
For over 30 years, Bits & Bits has manufactured top-of-the-line CNC cutting tools for woodworkers like you and me. You can use my link to check out their stuff and get 15% off your next purchase with code MALECKI15. 
River Table Epoxy
Check out the premium grade epoxy resin I used to build this EPIC tree table! 
Top Tools and Product Affiliates
Check out some of my top tools and product affiliates here. 
Extra Supplies
Check out some of my merchandise, build plans, and go-to safety glasses.
- Plans 
EPOXY Projects
If you like this project you'll love these EPOXY Projects!
‍
---