CRAZY Epoxy Waterfall River Table Build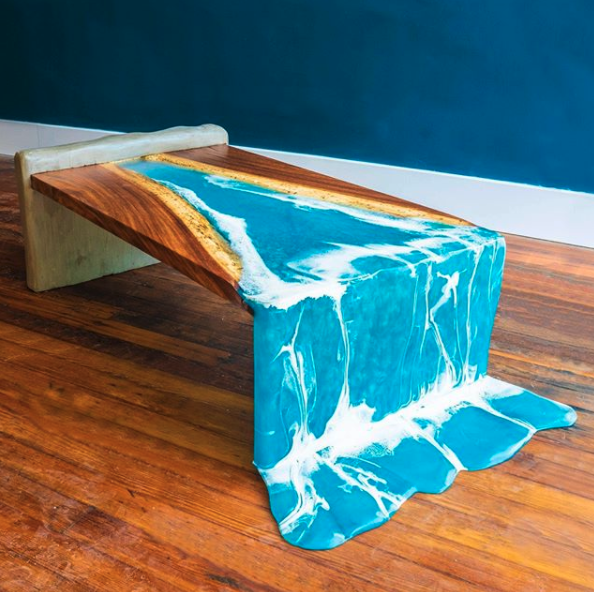 There are some projects out there that seem to be hellbent on breaking your spirit. For me, it was almost my crazy Epoxy waterfall river table build. But instead of letting the constant obstacles that came my way get me down, I faced them head-on. After two full months of getting kicked in the ass by this project, I finally achieved my final vision in this gorgeous Epoxy waterfall table. 
Learn how I took on one of my toughest challenges yet! If you're following along at home or want to try it out for yourself, be sure to take a look at my video below.
CRAZY Epoxy Waterfall River Table Build
I used a single pour for my Epoxy waterfall river table. Using an intricate crafting technique, I also added some bubbles to the river for extra depth. To build my rock, I used a technique I like to call "Glue it and Screw it." Basically, I just glue and screw a wooden shelf together. 
I'm not going to lie, this project was a tough one. As you will see when you watch my video, I faced loads of roadblocks. But after working through FOUR broken tables, I finally made a stunning waterfall river table. 
Tools and Materials: 
John Malecki Reviews the Tools and Materials He Used to Make This Build Possible
This build was sponsored by my friends over at Woodcraft. These woodworking experts offer everything you need for your woodshop, including power saws, drills, knives, scrapers, and more. Whether you need help tackling a project or finding the right carving tool for your next build, the experts at Woodcraft are ready to assist you. 
I also want to give a quick shout out to Jesse Crowe from Crowe Creek Designs. She was a huge help during this project, and helped me achieve a natural foaming look for my waterfall! Check out her Instagram page for some of the most beautiful and artistic Epoxy and wood projects you will ever see. 
My Tools and Product Affiliates
Check out some of my top tools and product affiliates here. 
Ridgid Oscillating/Edge Belt Sander
Bosch 12-Inch DB Glide Miter Saw
WoodRiver #5 Bench Plane, V3
Jet 20-Inch Helical Head Planer, 5 HP 1 Phase
Fein 4.5" Angle Grinder
DEWALT 20V XR Brushless 4.5" Angle Grinder
Milwaukee M18 Fuel Deep Cut Band Saw
Lincoln Electric Welding Helmet
Want to know where I got my tools for this waterfall build? Of course, you do. 
Extra Supplies
Check out some of my merchandise, build plans, and go-to safety glasses.
This was definitely a challenging, but fun build. If you liked this CRAZY Epoxy waterfall river table build, you'll love these projects: 
- CRAZY Epoxy LAVA TABLE Build
- HUGE 60L Epoxy River Table Build 
- HUGE Bullets In Epoxy Conference Table Build
---