DIY Concrete Counters — Renovating My Kitchen Part 6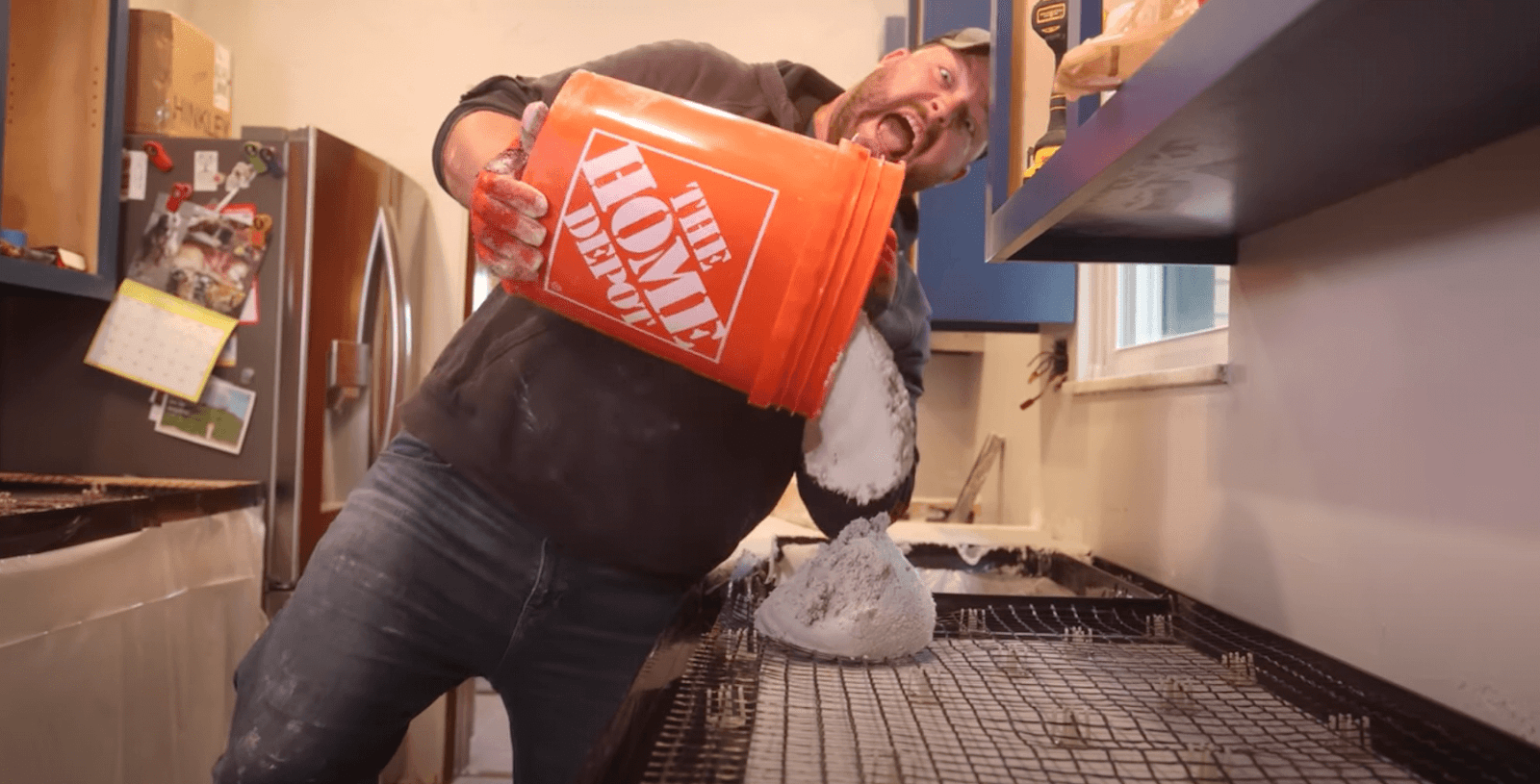 This episode is a little bit of an old-school style as we just take you through the whole process of our DIY counters! It really wouldn't be a John Malecki kitchen renovation without a few wrong turns, so don't worry, we didn't leave those out for you. If you take one tip out of this entire video, it should be that if you ever put blind trust in Jordan, be ready to pay with your wallet and your time. Watch the full DIY concrete counters video and check out how we somehow turned this one out on (counter)top and show you a few tips along the way. 
‍
Welcome to the Concrete Jungle, a.k.a. My Kitchen 
John Malecki walks you through his DIY concrete countertop build.
To get started on our countertops, we had to reinforce some of the cabinets before pouring concrete onto them. Thank Jesus, our sink came with a template for us to center the sink to the cabinet. Most days, I don't know what I'm doing, so shout out to Krous for including templates when you buy one of their sinks. 
We are using HardieBacker as our base for these concrete countertops, which means the HardieBackers live permanently in the counters. These HardieBackers are sometimes challenging to cut accurately, so you'll sometimes get gaps in between your cuts — which is nothing a little duct tape can't fix. Tape up those gaps with duct tape so your concrete does not seep into your cabinets while the concrete is still wet. See, us idiots can teach you a thing or two! We also install an EPIC sink that you'll just have to watch the full video to see. 
Tools and Materials
Check out how John Malecki is constantly learning and mastering new skills.
This build just taught me how important it is to learn about what you're doing before you get started, but thankfully this is not the case for the creative side of this job. With Skillshare, my idiots and I learn more and more every day about being successful on YouTube. Skillshare is an online learning platform with tons of courses on business, photography, videography, and so much more. Use my link to receive 30% off an annual subscription to Skillshare! 
Check out the links below for my go-to tools for all my builds, including this one: 
Top Tools and Product Affiliates
Check out some of my top tools and product affiliates here. 
Extra Supplies
Check out some of my merchandise, build plans, and go-to safety glasses.
- Plans 
Thanks for watching and supporting! If you liked this DIY concrete counters project, be sure to check out my merch and other projects here: 
‍
---