Does This Chair Actually Work? My IMPOSSIBLE Floating Chair Build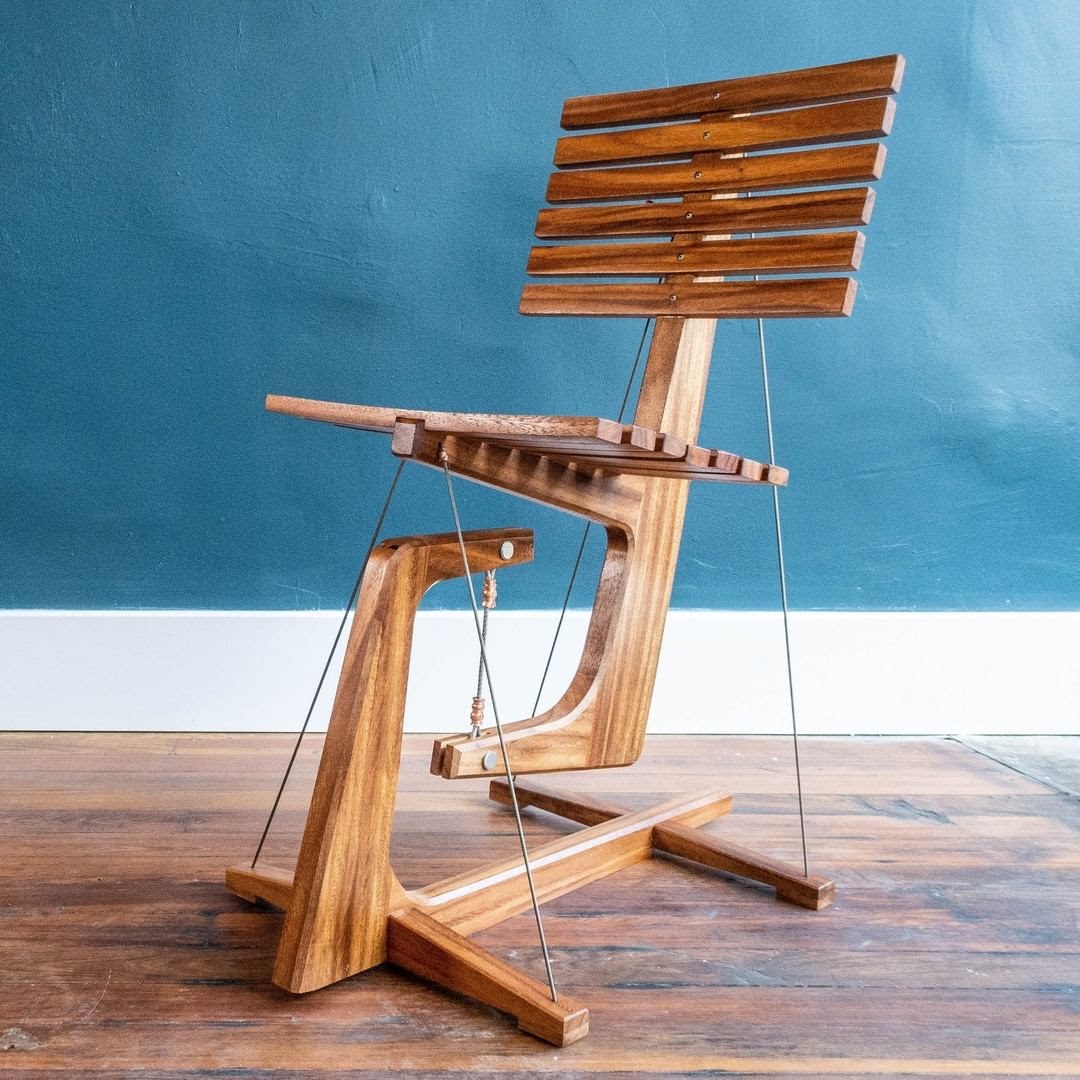 You guys know how much I enjoy floating things. And I know how much you enjoy watching me build these floating objects. So for this video, we're diving back into making some stuff float and pushing my abilities to dabble with form and function on this IMPOSSIBLE Floating Chair Build. We found ourselves scratching our heads a ton on this project, but I think the end result is something you guys are going to enjoy. And yes, I did test it to see if it could hold my 290 lb body weight. 
So follow along with me as I tackle this EPIC chair build!
Does This Chair Actually Work? My IMPOSSIBLE Chair Build
So I started out by marking up a 3D model. Using Ms. Piggy, I'm going to cut out my templates and begin gluing up some parts. Using an angled clamp from BESSEY, I can start placing some of the wooden chair parts together. Once everything is dry, I can get the templating done, cut the joinery for the feet, and cut all of the seat slacks. Then, I can start putting the chair together. 
Thanks for checking out this sneak peek at my IMPOSSIBLE chair build. Don't forget to follow along with my video! 
Tools and Materials
John Malecki Reviews the Tools and Materials He Used for This Build
This video was sponsored by BESSY. At BESSEY, you can find some great clamps for your next woodworking project. 
My videos are proudly sponsored by Woodcraft — a top destination for the best power tools and accessories in the country. For your next big woodworking project, make sure you head to Woodcraft for all of your supply needs. I also want to thank Timberland PRO for always supporting my crazy woodworking projects and being my number 1 resource for durable, high-quality boots. 
BITS & BITS
Recently, I partnered with Bits & Bits. For over 30 years, Bits & Bits has manufactured top-of-the-line CNC cutting tools for woodworkers like you and me. You can use my link to check out their stuff and get 15% off your next purchase with code MALECKI15. 
Tools and Product Affiliates
Check out some of my top tool suggestions and product affiliates here. 
Extra Supplies
Check out some of my merchandise, build plans, and go-to safety glasses.
- Plans 
If you like this IMPOSSIBLE BUILD, you'll have to check out these! 
- IMPOSSIBLE Floating Cave Table 
- FLOATING Table Holds 100 lbs!
- IMPOSSIBLE Floating Table Build 
- IMPOSSIBLE 2 Legged Chair Build 
---