EASY 2 Day Pergola Build + GIVEAWAY Winners - EPIC Backyard Transformation Pt. 6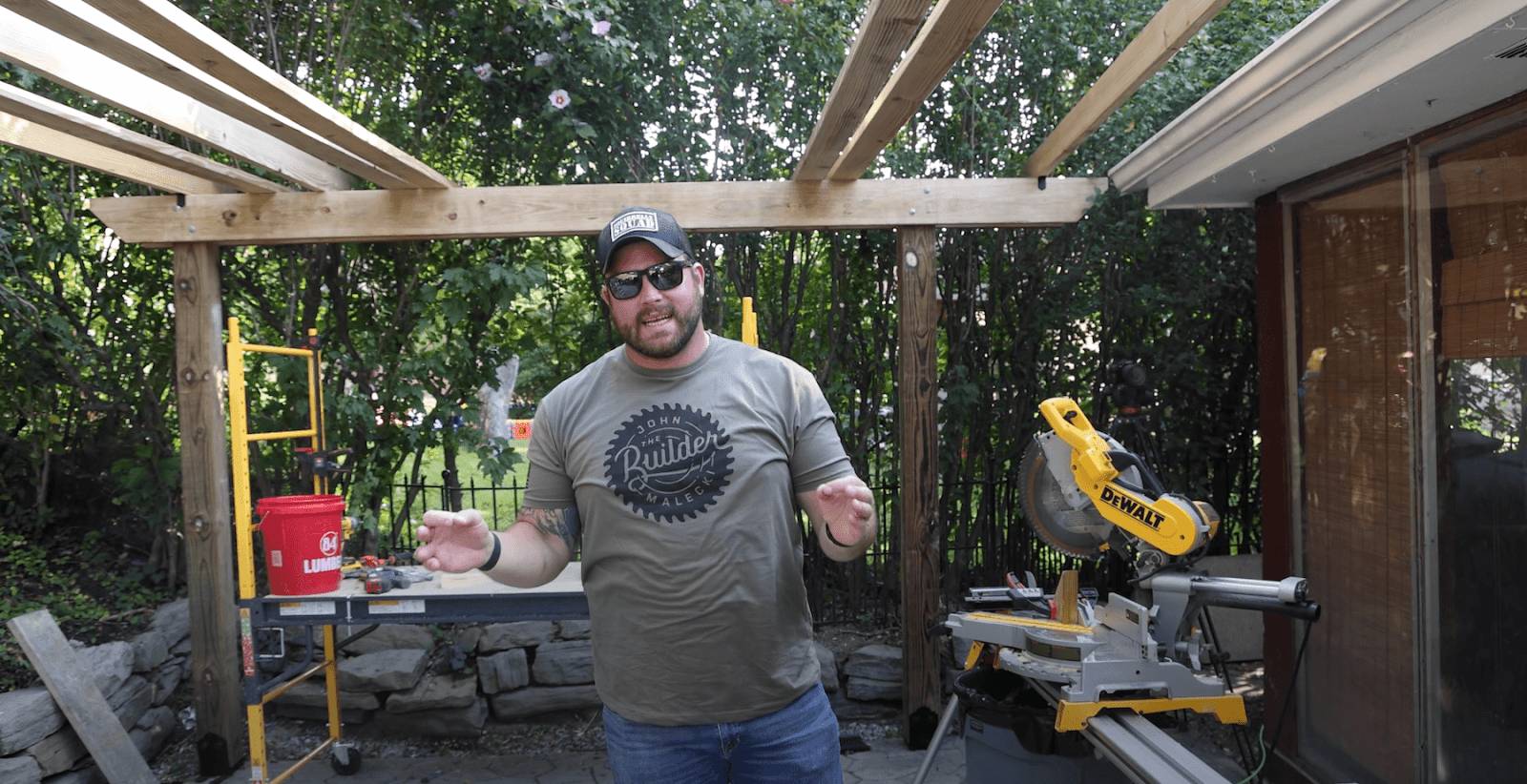 The time has come. We are on our last episode of Sam's backyard transformation. The patio project has come along nicely, with a few squirrelly moments, of course. But the last thing we are going to do to finish this off is a pergola. By pergola, I mean something kind of like a pergola but not exactly. Sam has a vision that we are running with, but the main idea is a pergola. 
Along with this simple two-day build, we are also announcing ALL of the Pit Boss winners. For every episode of this series, we are giving away a Pit Boss grill or griddle to one of you incredible people. Watch the full video to check out our finished project and find out if you are now the new owner of a Pit Boss grill.
It's Time to Finish This Baby Up With a Beautiful Pergola
The boys put the finishing touches on Sam's backyard transformation.
The premise of this build is that we are planning on having a few posts and something to cover the patio from the sun. Pretty basic, right? Well, let's see if we can screw this one up. First things first, we have to set up some posts. We marked our post locations, and we are using brackets that will allow us to adjust to make sure the beams are all set in place. Next, we drilled the brackets in place and measured our posts to the height Sam was looking for, about eight feet. 
We made sure to temporarily put a few posts and a beam up to give us a frame of reference, just to make sure that we are on the right track and leveled. The ground we were working on is not perfectly leveled and smooth, so everything is relative to this build. If you are working on a flat surface, you could probably get away with pre-cutting everything to the height you want — for once, we were just extra cautious. Did we still mess something up? Well, you'll just have to watch the full video to find out if we pulled this one off for Sam.
Tools and Materials
John Malecki shows you his favorite tools and pulls the winners for the EPIC Pit Boss giveaways.
Shout out to measuring and leveling tools — they were the star of this show. If we didn't measure correctly, we really could've messed this one up. I've added all of our favorite products for every build below, including our go-to measuring devices. But, one even BIGGER shout out to Pit Boss for allowing us to give away one of their grills for every single episode in this series. We are obsessed with cooking on ours, and we probably make you really jealous with our cheesesteaks, chicken, and everything else we cook up. 
Now for the Pit Boss giveaway winners, we couldn't thank you enough for over 38,000 entries overall. The only way we found it appropriate to choose the winners was to throw all the names in my old, stinky Steelers helmet and randomly draw them out of there. Congratulations to the winners! Find out who they are by checking out the video.
Top Tools and Product Affiliates
Check out some of my top tools and product affiliates here. 
Extra Supplies
Check out some of my merchandise, build plans, and go-to safety glasses.
- Plans 
Thanks for watching and supporting me! If you liked this project, be sure to check out my merch and other projects here: 
---