EASY Beginner Basic Tool Workbench Build!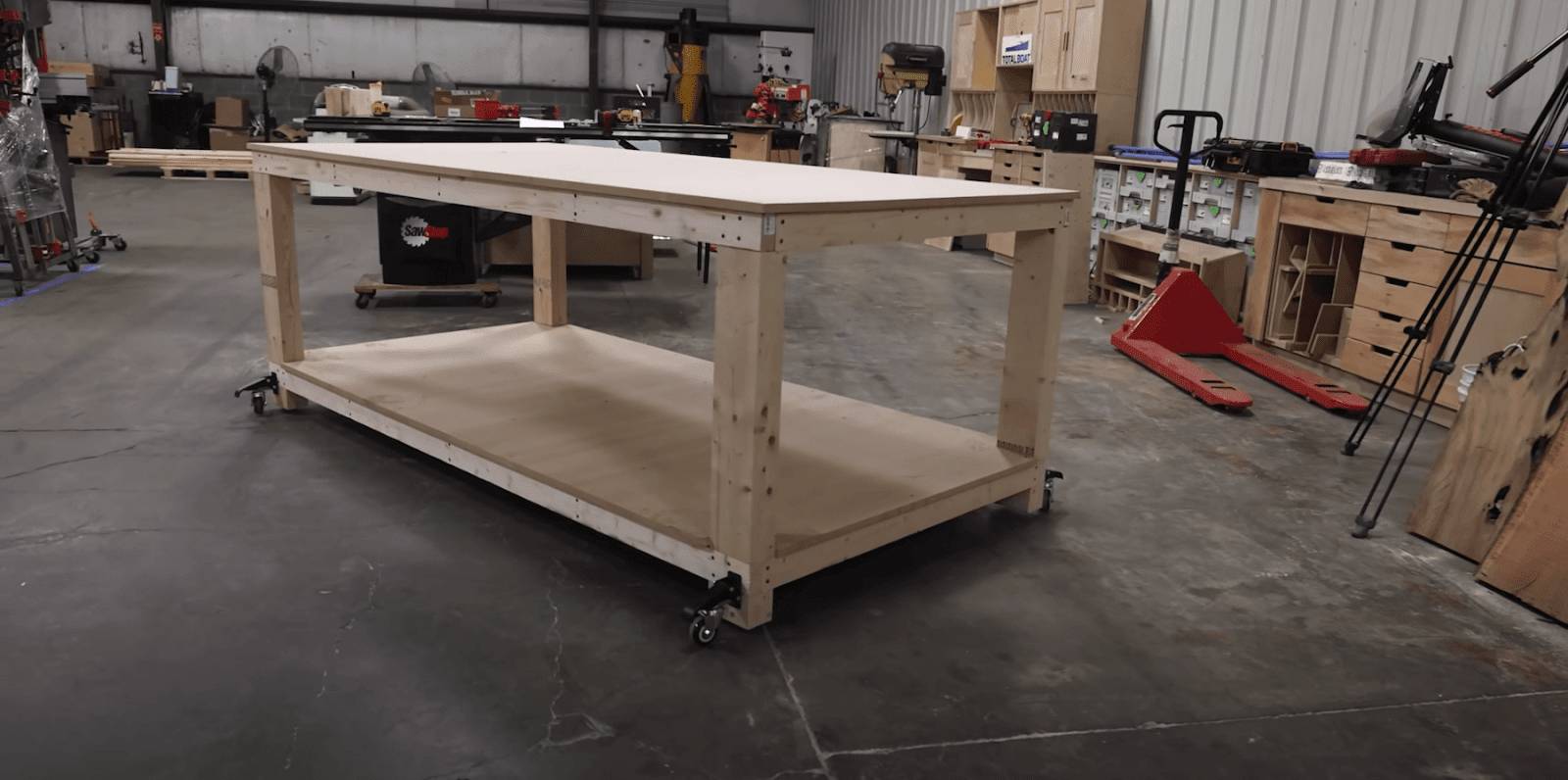 If you have a small shop and a limited amount of tools, but you still need a workbench, this build is for you. I'm only using three power tools to put together this entire bench, so I know just about anyone can put this one together. I always love creating videos for beginner projects because I know that anyone can do it — you don't need any fancy tools or materials. This workbench is simple but super practical. Make sure you watch the full video and then tag me on Instagram when you finish your version!
Need an Upgraded Tool Bench? Build One! 
John Malecki and the boys guide you through a basic workbench build
Like I mentioned before, I'm only going to be using three tools for this project — a drill, a circular saw, and a portable table saw. This will be a really solid rolling work table, so you can move it around wherever you would like for it to go. We are also only using construction-grade materials for this build, so we are going all into DIY mode. If you want a step-by-step on putting this one together, we have a full downloadable plan available. The workbench plan includes a PDF with detailed drawings, parts & cuts list, detailed joinery diagrams, and specific measurements. 
The first thing we need to do is break down our leg material. I'm gluing together two pieces to have a thicker leg profile and everything is a bit sturdier. When you are gluing pieces together, always remember one thing — squiggles never swirls. After we finished up the legs, we moved on to our joinery. Even though this build was fairly simple, it was still a lot of fun. So watch the full video and get started on building your brand new workbench.
Tools and Materials
John Malecki lets you in on the best tools for your next build
The holy grail products in this build are, of course, the construction grade wood pieces, drill, circular saw, and the portable table saw. If you are preparing to build your own workbench, download our plan that takes you through the detailed instructions on creating the perfect beginner workbench.
No matter what, we are always ready to learn more. With this YouTube channel, we have to continue to learn about video editing and the backend of the business — which we could never do on our own. Skillshare is an online learning community that holds thousands of videos across countless topics. Grab yourself a FREE month of Skillshare so that you can continue your learning just like us.
Top Tools and Product Affiliates
Check out some of my top tools and product affiliates here. 
Extra Supplies
Check out some of my merchandise, build plans, and go-to safety glasses.
- Plans 
Thanks for watching and supporting me! If you liked this project, be sure to check out my merch and other projects here: 
---