EPIC Live Edge & Epoxy Reception Desk Build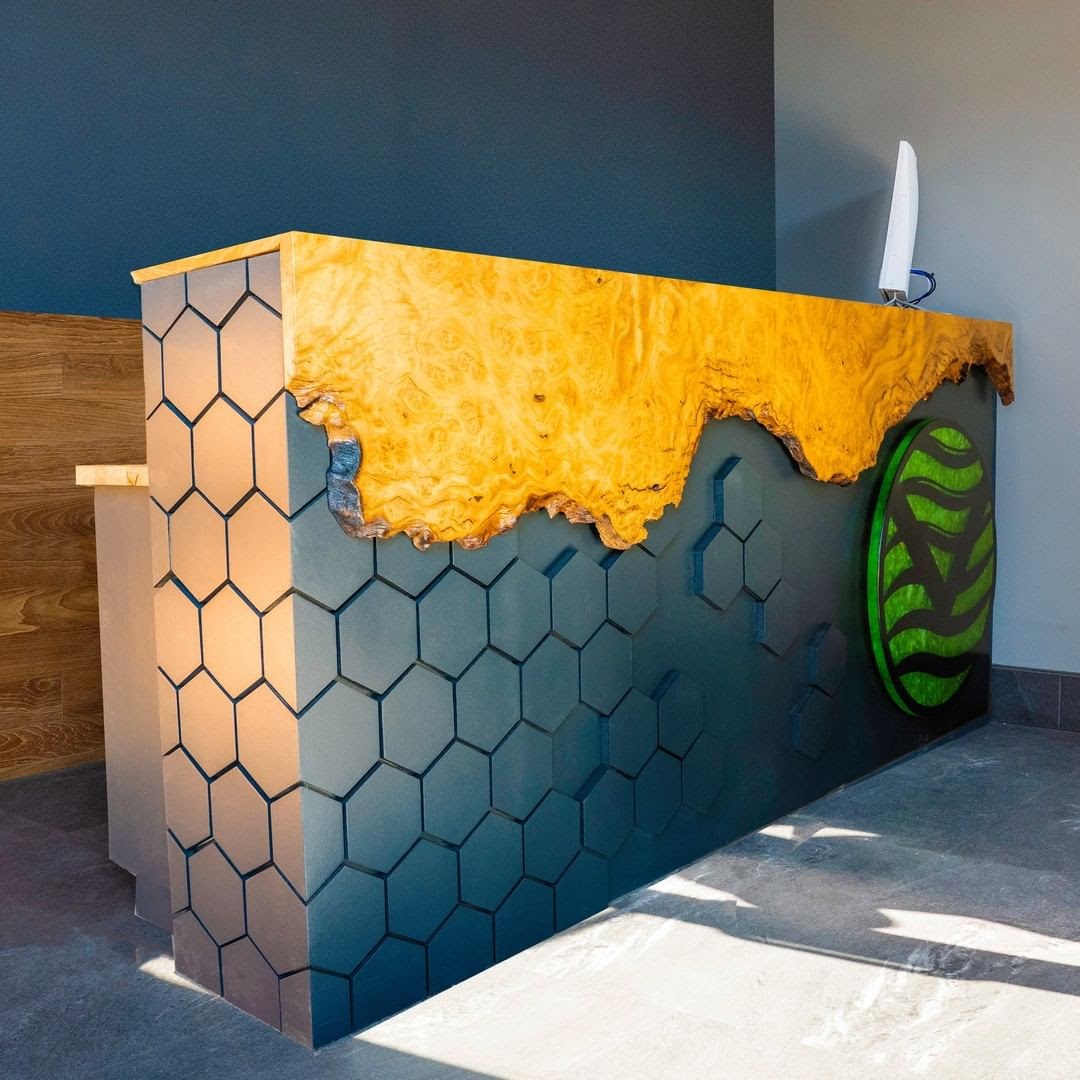 A while ago, a close friend of mine asked if I could help him out with a reception desk for his new float studio. Of course, I told him I wanted complete creative control over the project. When he said no, I went ahead and did it anyway. I don't do a ton of projects like this, but when I do I try to hit a home run. So follow me as I tackle this EPIC desk build! 
EPIC Live Edge & Epoxy Reception Desk Build
Before we do anything, we need to prepare the Epoxy mold. Once we're able to pour the Epoxy, we can start on the fun stuff. But to make sure things don't explode in our faces, we have to do it in a temperature-controlled environment. 
While I was pouring the Epoxy, the boys were cutting out the countertop for the reception desk. So while we wait for the Epoxy to dry, we're going to joint, plane, smooth, and glue the pieces up. I'm also going to cut out the hexagons that are going to be on the front of the desk. For this step, I'm going to use Ms. Piggy! 
After I finish cutting up the hexagons, I can spruce them up and add some paint. Once I start to pour the Epoxy on my desk, everything will finally start to come together. There were a couple of hiccups along the way, but that's always going to come with building!
Thanks for checking out this quick summary of my EPIC live edge and epoxy reception desk build! Make sure you check out the full video to get a complete look at the project.
Tools and Materials
John Malecki Reviews the Tools and Materials He Used for This Build
I want to give a shout-out to Woodcraft for supporting my EPIC build series. Woodcraft is the top destination for the best power tools and accessories in the country. For your next big woodworking project, make sure you head to Woodcraft for all of your supply needs. I also want to thank Timberland PRO for always supporting my crazy woodworking projects and being my number 1 resource for durable, high-quality boots. 
Ritual
This EPIC video was made possible by Ritual. Ritual is my new favorite multi-vitamin. Not only does it have a nice mint flavor, but it is helping me stay on track toward living a healthier life. And a healthier life means I can build forever! 
BITS & BITS
For over 30 years, Bits & Bits has manufactured top-of-the-line CNC cutting tools for woodworkers like you and me. You can use my link to check out their stuff and get 15% off your next purchase with code MALECKI15. 
River Table Epoxy
Check out the premium grade epoxy resin I used to build this EPIC desk! 
Top Tools and Product Affiliates
Check out some of my top tools and product affiliates here. 
Extra Supplies
Check out some of my merchandise, build plans, and go-to safety glasses.
- Plans 
EPOXY Projects
If you liked this video, check out the one I made a few years ago!
‍
---