EPIC Metal Storage Rack Build for the Dream Shop!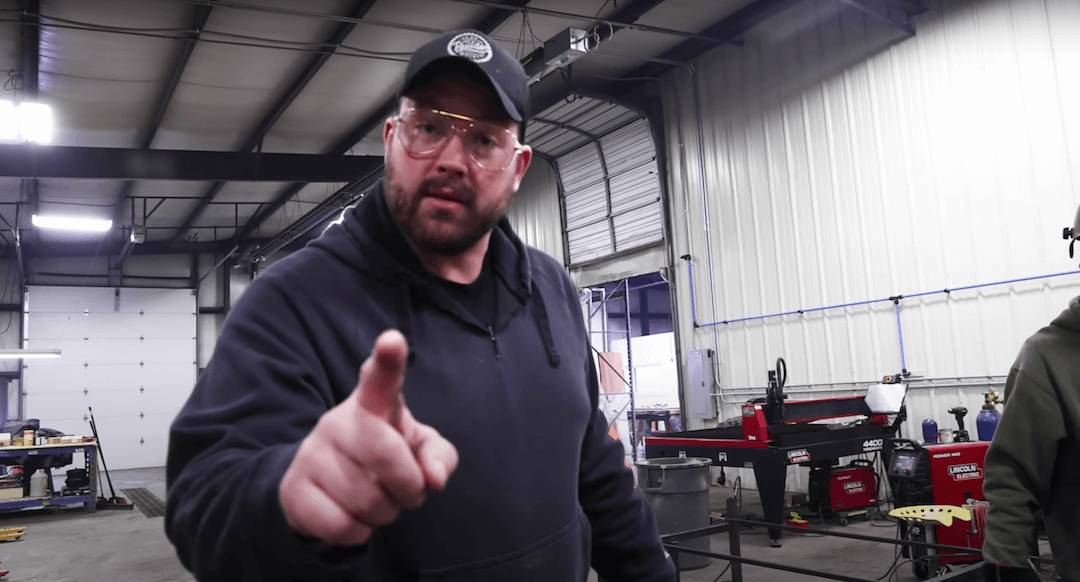 We've been in The Dream Shop for over three months now, and we've mostly been focusing on the wood shop. You've followed us as we got the dust collection, the CNC, the CNC room and a bunch of other stuff, but we've been completely neglecting the metal shop. 
Right now, the storage in the metal shop completely sucks. Yinz know we like to stay organized, but right now the metal shop looks like a dumpster. That's why we decided to build an EPIC metal storage rack to keep our slabs and equipment where we can find it. Wanna see the finished product? Check out our latest video on Youtube and take a look at our metal shop playlist for more antics from the Squirrelly Squad. 
How to Build an EPIC Metal Storage Rack
Find out how we built a new steel storage rack to help organize the Dream Shop
I got the team started on the new storage rack by choosing the space in the Dream Shop and making a quick design in the CAD. Based on my design, the boys got started cutting individual steel pieces to weld together to create the shelves. After all the pieces were ready to go, Sam and Jordan got to work welding the storage rack together. Midway through the boys realize they didn't have the measurements for in between each shelf, so they had to wait 'til I got back to clear things up. After they got a few L shapes started we got wings — an essential element of any metal shop project.
Once all of the pieces were ready to go, it was time to weld the mock up structure together. Gotta be careful though, you don't want to weld together a wobbly storage rack. We tried our best to get it perfectly even, but we still had to make some minor adjustments later on. Sam welded the mock up, making sure the ground is on the piece so that the full weld comes together seamlessly. 
After we got the mock up ready to go, we lifted it horizontally and moved it over to where we wanted to bolt the structure to the floor. The storage rack ended up being a little bit wobbly, so we used the forklift to test the load bearing. Then, we bolted the whole thing to the floor and used a shim to correct any wobbles. To finish off the project, I welded a storage area for smaller pieces and Sam installed some wall control organizers so we can keep track of all our metalworking tools. 
Tools and Materials We Used
Wanna build a storage rack of your own? Find out what you need to get started
We make it look easy in the Dream Shop, but building a huge metal storage rack takes a lot of tools and materials. I used CAD (Computer-Aided Design) for the initial design. Then the boys used our table saw to chop up each piece of steel. After that, Sam used our precision table to square off all the welds using a brand new square from Fireball Tool.
We got a brand new shipment of gloves from Lincoln Electric to help us get started on the welding. Lincoln Electric also hooked us up with a sweet fume extractor to help us breathe better while we're welding. Another one of our most important supplies — wings, boneless or regular depending on which one of the guys you're talking to.
Then we used our trusty forklift to lift up the storage rack. To securely bolt the whole thing to the floor we needed heavy duty bolts so there is no chance of snapping. The last thing we needed were some leftover wall control panels, courtesy of Sam, to finish the storage rack. How do you think we did? Sound off in the comments of our latest video.
Top Tools and Product Affiliates
Check out some of my top tools and product affiliates here. 
Extra Supplies
Check out some of my merchandise, build plans, and go-to safety glasses.
Thanks for watching and supporting me! If you liked this project, be sure to check out my merch and take a look at more of our metalworking videos!
---