EPIC Swing Set & Fire Pit Build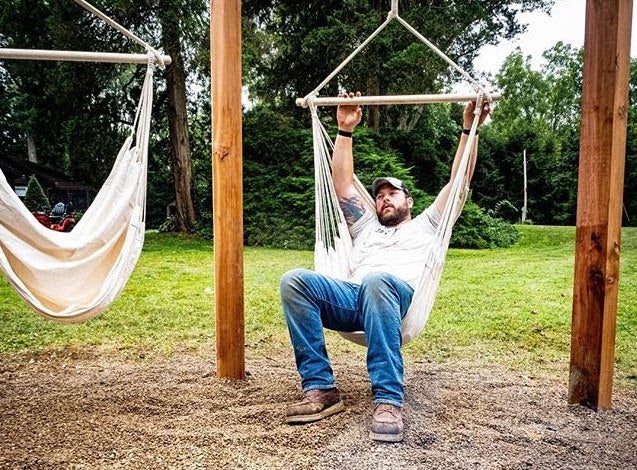 Hey guys! Happy first day of October. In my latest build, I'm going to celebrate my favorite season by creating an EPIC swing set and fire pit on my in-law's property. For the build, I removed a dead pine tree and replaced it with an AWESOME outdoor feature piece. 
So follow me as I build a swing set and fire pit for some outdoor fun this fall! If you're following along at home or want to try it out for yourself, be sure to take a look at my video below.
EPIC Swing Set & Fire Pit Build
In order to build an EPIC swing set and fire pit, I had to first remove a dead pine tree in the backyard. After chopping it up into manageable chunks, I took the branches out to a separate area for burning later on.  
For phase two, I placed a metal ring and some gravel in the ground for the fire pit. Then, I began to dig some holes to set the posts around the pit. With the new Lazer CT Recip Sawblades from LENOX, we successfully welded and assembled this project on-site! 
Thanks for checking out the sneak peek to my AWESOME swing set and fire pit build. Make sure you watch the whole video so you can see the process from start to finish! 
Tools and Materials
John Malecki Reviews the Tools and Materials He Used for This Build
For this project, I used the new Lazer CT Recip Sawblades from LENOX. I want to give a shout-out to Woodcraft for sponsoring this EPIC video series. Woodcraft is the go-to destination for the best power tools and accessories in the country. For your next big woodworking project, make sure you head to Woodcraft for all of your supply needs. I also want to thank Timberland PRO for always supporting my crazy woodworking projects and being my number 1 resource for durable, high-quality boots. 
BITS & BITS
Recently, I partnered with Bits & Bits. For over 30 years, Bits & Bits has manufactured top-of-the-line CNC cutting tools for woodworkers like you and me. You can use my link to check out their stuff and get 15% off your next purchase with code MALECKI15. 
Top Tools and Product Affiliates
Check out some of my top tools and product affiliates here. 
Extra Supplies
Check out some of my merchandise, build plans, and go-to safety glasses.
- Plans 
Deck Build 
If you like home projects, check out my epic deck series! 
- Building an EPIC DECK Pt. 1 — Demolition 
- Building an EPIC DECK Pt. 2 — Framing
- Building an EPIC DECK Pt. 3 — Decking & Waterproofing
- Building an EPIC DECK Pt. 4 — Stairs & Railings
- Building an EPIC DECK Pt. 5 — OUTDOOR KITCHEN
---