HIDDEN Compartment Catch All Box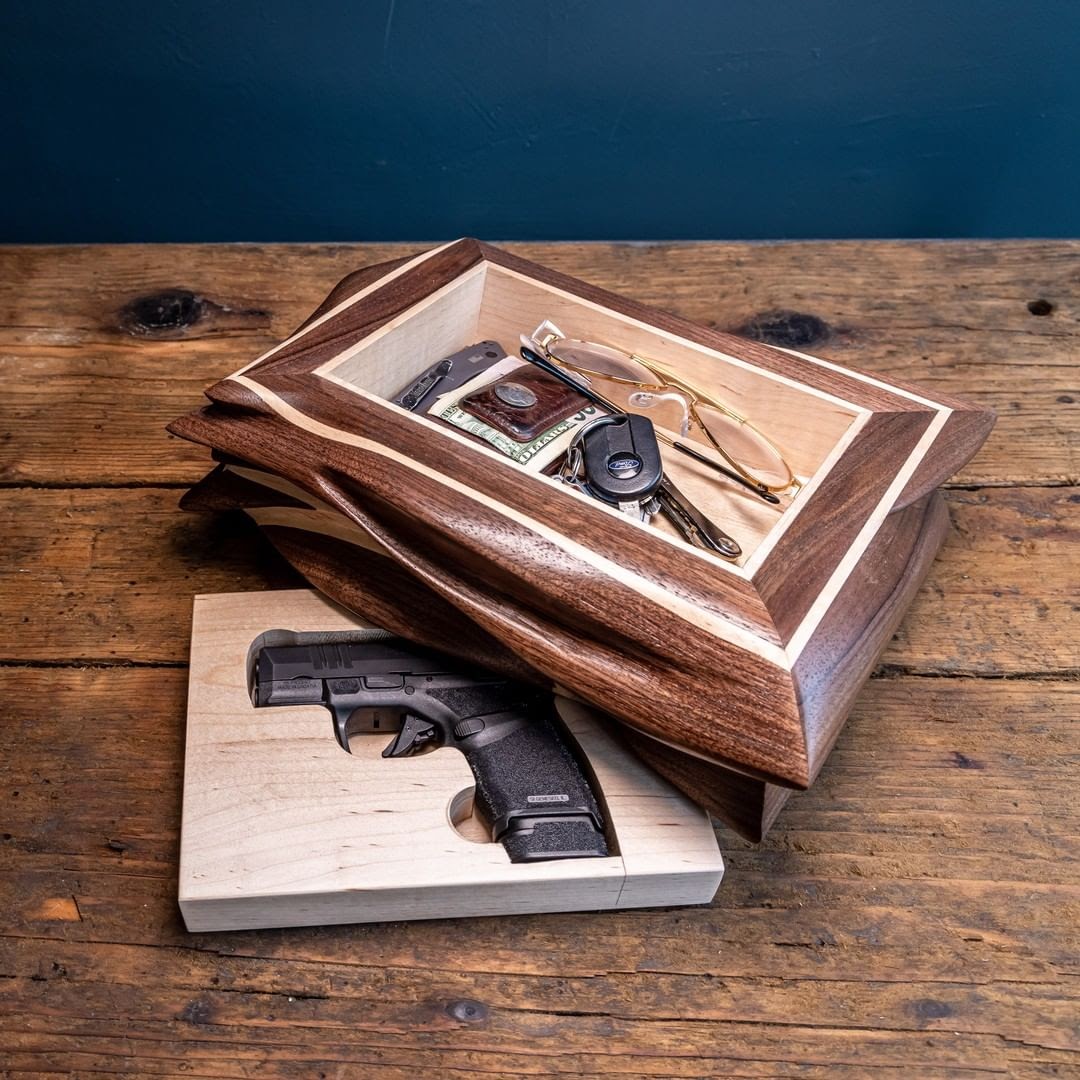 So, recently I treated myself with a new handgun. It's sized a little differently from my old one, which brings me to the current project I'm working on. A few years ago, I made a wooden box to hold my everyday carry or EDC as cool people say. But my new handgun doesn't fit in that box. So I'm making a new one to hold my new EDC pistol. Make sure you check out my full video below to see the complete build!
HIDDEN Compartment Catch All Box
While I was planning out my new box, I decided I wanted it to make it more like a desk organizer than my old one was. I personally have a lot of crap on my desk I need to clear away. So I modeled the size of my box over how much junk it could fit. 
Just as I did with the last build, I traced the outline of my gun with a pencil. Then, I grabbed my bandsaw and made some cuts! After I finished gluing up the seam, it was time to pretty up the box. 
Some mistakes and goofs were made, but that's all part of the fun! Once I got past them, I got down to carving out the box. I went for a natural look that followed the grain of the wood. I kind of made some stuff up as I went, but that's what made this build so fun. 
Don't forget to check out the entire building process in my video! You'll want to see it with your own eyes. 
Tools and Materials
John Malecki Reviews the Tools and Materials He Used for This Build
I want to give a shout-out to Woodcraft for sponsoring this EPIC video. Woodcraft is the go-to destination for the best power tools and accessories in the country. For your next big woodworking project, make sure you head to Woodcraft for all of your supply needs. I also want to thank Timberland PRO for always supporting my crazy woodworking projects and being my number 1 resource for durable, high-quality boots. 
BITS & BITS
Recently, I partnered with Bits & Bits. For over 30 years, Bits & Bits has manufactured top-of-the-line CNC cutting tools for woodworkers like you and me. You can use my link to check out their stuff and get 15% off your next purchase with code MALECKI15. 
Top Tools and Product Affiliates
Check out some of my top tools and product affiliates here. 
Extra Supplies
Check out some of my merchandise, build plans, and go-to safety glasses.
- Plans 
Everyday Carry Woodworking Storage Box Build
If you liked this video, check out the one I made a few years ago!
---