How To Build an Outdoor Kitchen - EPIC Backyard Transformation Pt. 4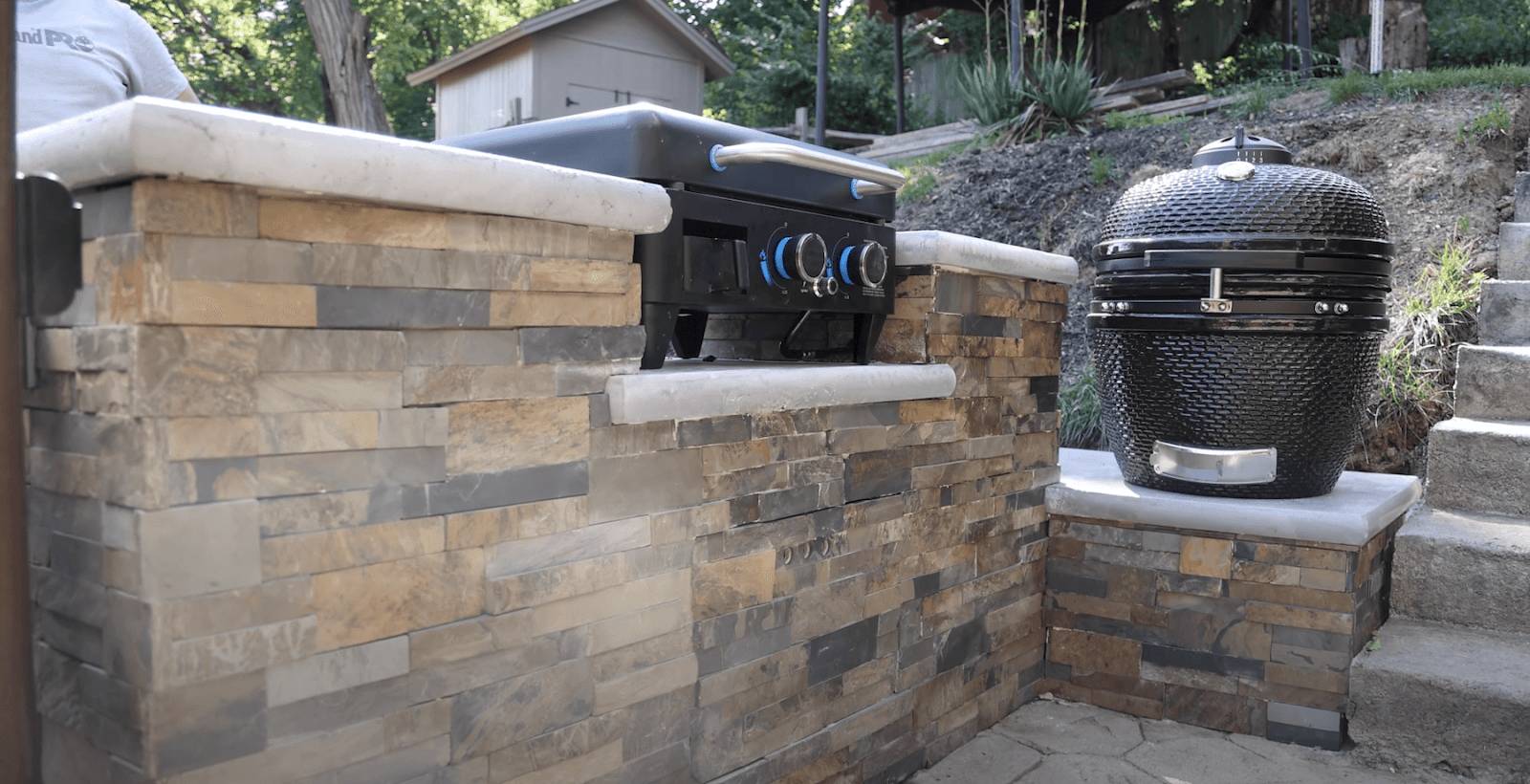 Now that the stairs and concrete are done, it's time to start building Sam's kitchen. Thank God Pit Boss just released a series of brand new griddles because they will look KILLER in this outdoor kitchen. Oh yeah, did we mention you can enter to win a Pit Boss griddle of your own? Make sure you watch the full video to find out how to enter. This build will be a little similar to the one we built for my deck last year, but we are changing it up with metal studs, cement boards, and beautiful stone veneers. Check out the INSANE final product by watching the full video!
We Are Just Trying to Give Sam the Best Place to Cook His Meats
John Malecki gets started on building the main outdoor kitchen area in Sam's backyard.
One of the main things to keep in mind when building your custom outdoor kitchen is how and what you will be cooking. Sam has two grills he wants to use for this kitchen, so we are building around those. While mapping out the layout, we had to figure out how much countertop space he needed. We had to make enough room to set down the meat and anything else Sam's cooking up. Along with leaving enough space on top, we also had to think about where to put the propane tank. We ended up making a pretty epic hidden door that I think you need to check out — I was pretty shocked it even worked out.
After planning and drawing out our kitchen, it was time to start putting some things together. We drilled the counter's base together and put cement boards on top to keep it as light as possible. But, of course, an episode would not be complete without us idiots getting a little squirrelly. So make sure you check out how this outdoor kitchen comes together, especially our spur of the moment hidden door.
Tools and Materials
The boys show you the best materials for every build and how you can win a badass grill of your own.
We've got our favorite tools and materials listed below, but we can't thank Pit Boss enough for the griddle they gifted Sam for his outdoor kitchen. Not only can you pick up the top of the griddle and take it anywhere, but they even included a bottle opener on there — perfect for the dad (aka me) drinking a beer and grilling some meat. In this episode, we cooked up incredible cheesesteaks to break in Sam's new kitchen. Make sure you watch the full video to find out how to win your own Pit Boss grill or griddle! 
Top Tools and Product Affiliates
Check out some of my top tools and product affiliates here. 
Extra Supplies
Check out some of my merchandise, build plans, and go-to safety glasses.
- Plans 
Thanks for watching and supporting me! If you liked this project, be sure to check out all of our downloadable plans and other projects here: 
---