How To Finish Live Edge Slabs 2.0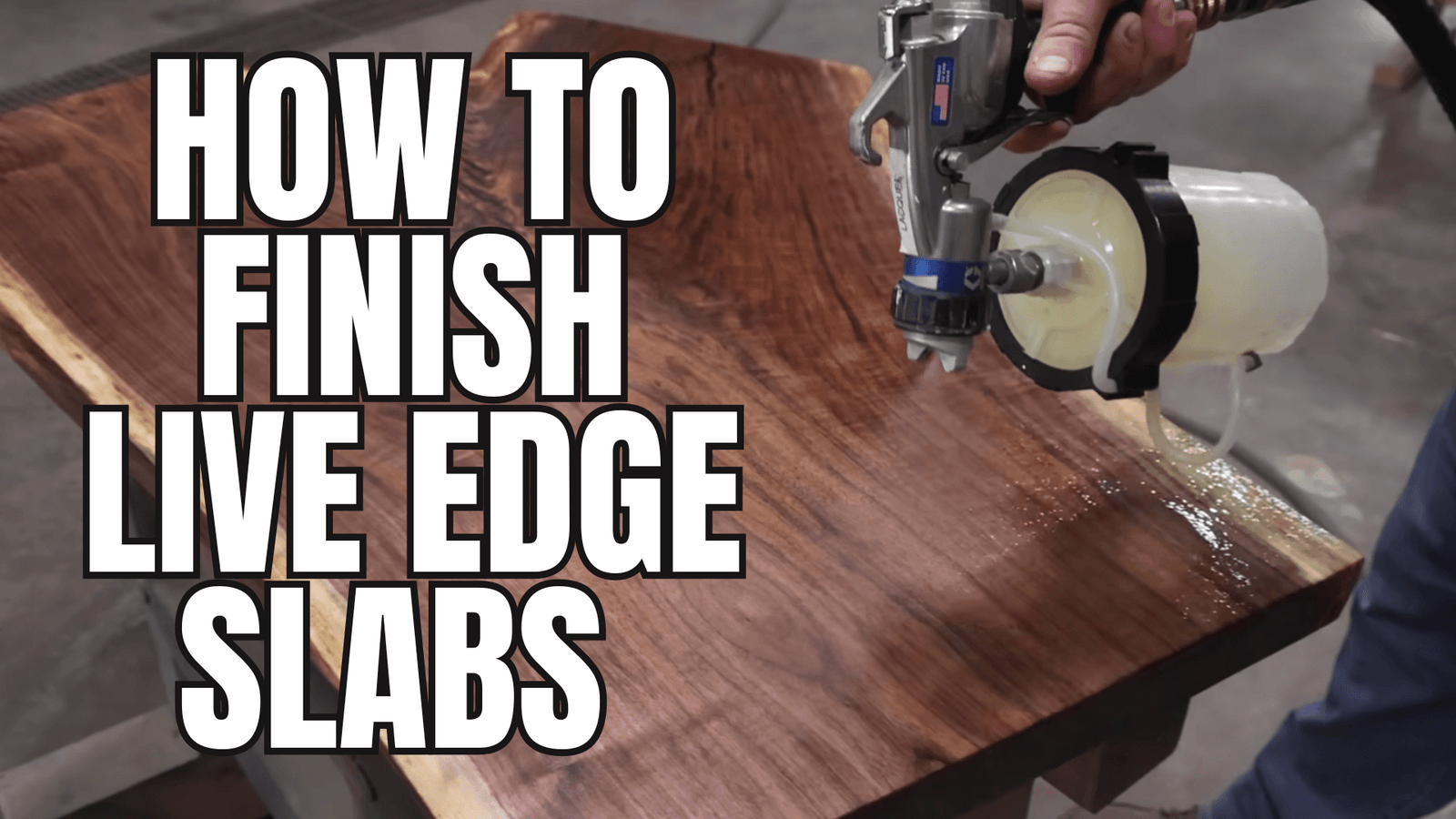 How To Finish Live Edge Slabs 2.0


Early in my YouTube career, I published some slab-related content that dealt with the finishing process of live edge slabs. Since then, I've refined my process and learned some new techniques that have done wonders for my work. Today, I'd like to revisit the finishing process and include these improved methods.


Currently, I'm working on two live edge slabs. One is a dining table that will be finished with Rubio Monocoat, and the other is a coffee table that will be finished with a conventional spray lacquer. Regardless of wood species or finish method, my tips and tricks will benefit your next project. 


Starting with your Live Edge Slab
Today, we're working with a small walnut slab. If you're familiar with my preferences, you'll know I despise bark. After a tree is cut and then kiln-dried, the bark often falls off. So, if any bark remains on the slab, it must be removed.
Flattening 
Next, we need to get the slab perfectly flat on both sides.  Starting out, I achieved this using a router and a flattening jig. Today, we use the CNC with a flattening bit. Both methods will give you the same result, but the CNC will be a lot faster. 
Filling Cracks and Voids in Live Edge Slabs
With your slab flat, the next step is filling any voids with epoxy resin. Voids aren't ideal in slabs, and if you're using slabs, they might not be fit for use as dimensional lumber. Utilizing these defects is what makes slab work unique. To fill cracks, I cover the bottom with Tyvek sheathing tape, which adheres tightly, preventing resin from seeping through. After prepping, I use Total Boat's High Performance Epoxy. It's versatile and dries in about 24 hours.

Once the resin has cured, we proceed to the preparation phase. The top will be sanded down to 220 grit, then I'll flip the slab. After removing the tape, I sand the bottom up to either 220 grit as well.
Edges
Now, the edges are up next. A notable advantage of spraying a finish onto a live edge slab is preserving its unique character. Given the challenge of using a six-inch random orbit sander on these parts, I employ a brush sander, equipped with brush springs, to clean the edge. This allows me to clean the crevices of the edge that the pad on the orbital sander can't reach.
Getting Ready for Finish
With both sides sanded to 220 grit and cleaned, I'll finish the bottom first, aiming for two coats. Our tool of choice is the Graco Pro HVLP 9.5, paired with pre-catalized lacquer. It's crucial to get this catalyzed at the store. They'll provide a timeframe for its use, and it's essential to stick to that. We've overlooked the catalyst before, and it's a mistake we won't repeat. The lacquer is a Sherwin Williams product, though alternatives like ML Campbell are also recommended. Given the local availability, we often opt for Sherwin Williams. When spraying, I use a one-third overlay technique: I spray a strip, then move down, allowing one-third of my next spray to overlap the previous one.
 Quick Note before spraying…
The last thing you want when spraying anything, especially sizable items, is to drag your hose across the finish. For smaller objects, this isn't a concern, but be careful with a larger piece.. If you need to reach the middle of the table, begin your spray pattern there and work your way back towards yourself.

Let Us Spray

Once the bottom has dried, we move on to the top. I've flipped it over and placed it on stands to easily spray the edges. My first step is to clean it with compressed air, removing any accumulated dust. It's vital to ensure surfaces are as dust-free as possible before applying any finish. After that, I'll focus on the edges. I tackle the edges first to prevent excess buildup on the top. If I were to spray the top first and then address the edges, overspray could accumulate on the top, especially around the edges. Once I've got the edges looking pristine, it's time to address the top.

Ready? Let's get to spraying!
I begin by applying two light coats of lacquer, waiting about 20-30 minutes for the first coat to dry. With two coats down and the finish appearing impeccable, the next step is a light surface scuff. I swear by the red Scotch Brite pad for this - it's perfect for smoothing out any uneven or rough patches. This is especially crucial if you, like me, occasionally spray outside a specialized spray booth. Yes, this step does produce some dust, but a quick wipe-down with a tack cloth does the trick. Following this, it's time for the third coat. I'm going slightly thicker with this one. For projects of this nature, my golden rule is three coats. The third, being denser, might require more drying time, but its self-leveling quality ensures a smooth, final finish.

How does the workpiece look after this final coat? Simply exquisite. But here's the catch: give it one to two days to off-gas properly. Patience is key. To wrap things up, a gentle application of wax will seal the deal, giving the slab that signature John Malecki finish.

For those hungry for more, I've handpicked an amazing playlist for you. Dive in and let's keep building!
---