How to Freehand Inlay ANYTHING! Bowtie Tutorial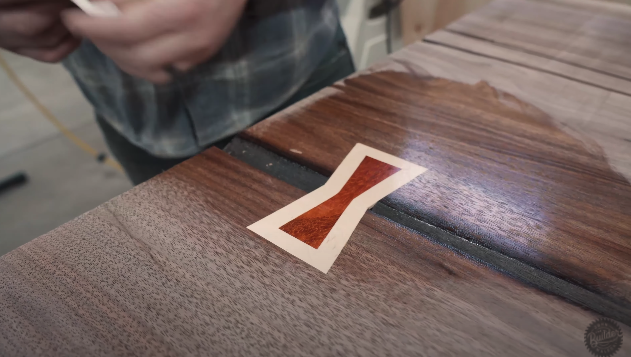 None of us like dealing with cracks in our woodworking projects, especially if we're working with live edge slabs. My favorite method of fixing them is by placing bowtie inlays in them, which is an extremely easy process to complete. I actually made a video four years ago on how to make these inlays, but I'm going to revisit it with an extra step. We're going to go at 2.0 in this video — inlays in inlays. 
Learn how to make some gorgeous inlays within minutes in my latest project! If you're following along at home or want to try it out for yourself, be sure to take a look at my video below.
How to Freehand Inlay ANYTHING! Bowtie Tutorial
If you're wondering why the hell I'm going over this, it's because these wood cracks will continue to open up as the wood expands out horizontally. The wood will eventually become uneven as a result. With inlays, we can keep the wood from falling apart and shifting onto different levels. 
In this video, I used maple as my inlay. I made sure the maple was ⅓ to ¼ thickness of my slab. If the slab is too thick, then you will have to worry about expansion and contraction occurring within the inlay or bow-tie itself. 
For more tips on making a freehand inlay make sure you watch my entire video! 
Tools and Materials 
John Malecki Reviews the Tools and Materials He Used to Make This Build Possible
This build was sponsored by my friends over at Woodcraft. These woodworking experts offer everything you need for your woodshop, including power saws, drills, knives, scrapers, and more. Whether you need help tackling a project or finding the right carving tool for your next build, the experts at Woodcraft are ready to assist you. 
I also want to thank the folks over at Timberland PRO for supporting all of my builds as well. For top-of-the-line woodworking boots, Timberland PRO is your go-to resource. Everything from comp toe work shoes to steel toe boots can be found here. 
Supplies Used in the Tutorial
Tools and Product Affiliates
Check out some of my top tools and product affiliates here. 
Ridgid Oscillating/Edge Belt Sander
WoodRiver #5 Bench Plane, V3
Jet 20-Inch Helical Head Planer, 5 HP 1 Phase
Bosch 12-Inch DB Glide Miter Saw
Fein 4.5" Angle Grinder
Milwaukee M18 Fuel Deep Cut Band Saw
Lincoln Electric Welding Helmet
DEWALT 20V XR Brushless 4.5" Angle Grinder
Extra Supplies
Check out some of my merchandise, build plans, and go-to safety glasses.
Merchandise: John Malecki t-shirts, hats, and accessories
Plans: Digital plans for some of my favorite projects
Safety Glasses: Pyramex Pathfinder Aviator Safety Glasses with a Gold Frame and Clear Lens
If you enjoyed this tutorial, you are going to love these other how-to videos: 
- How to Make Breadboard Ends with a Domino
---