How To Stamp Concrete - EPIC Backyard Transformation Pt. 2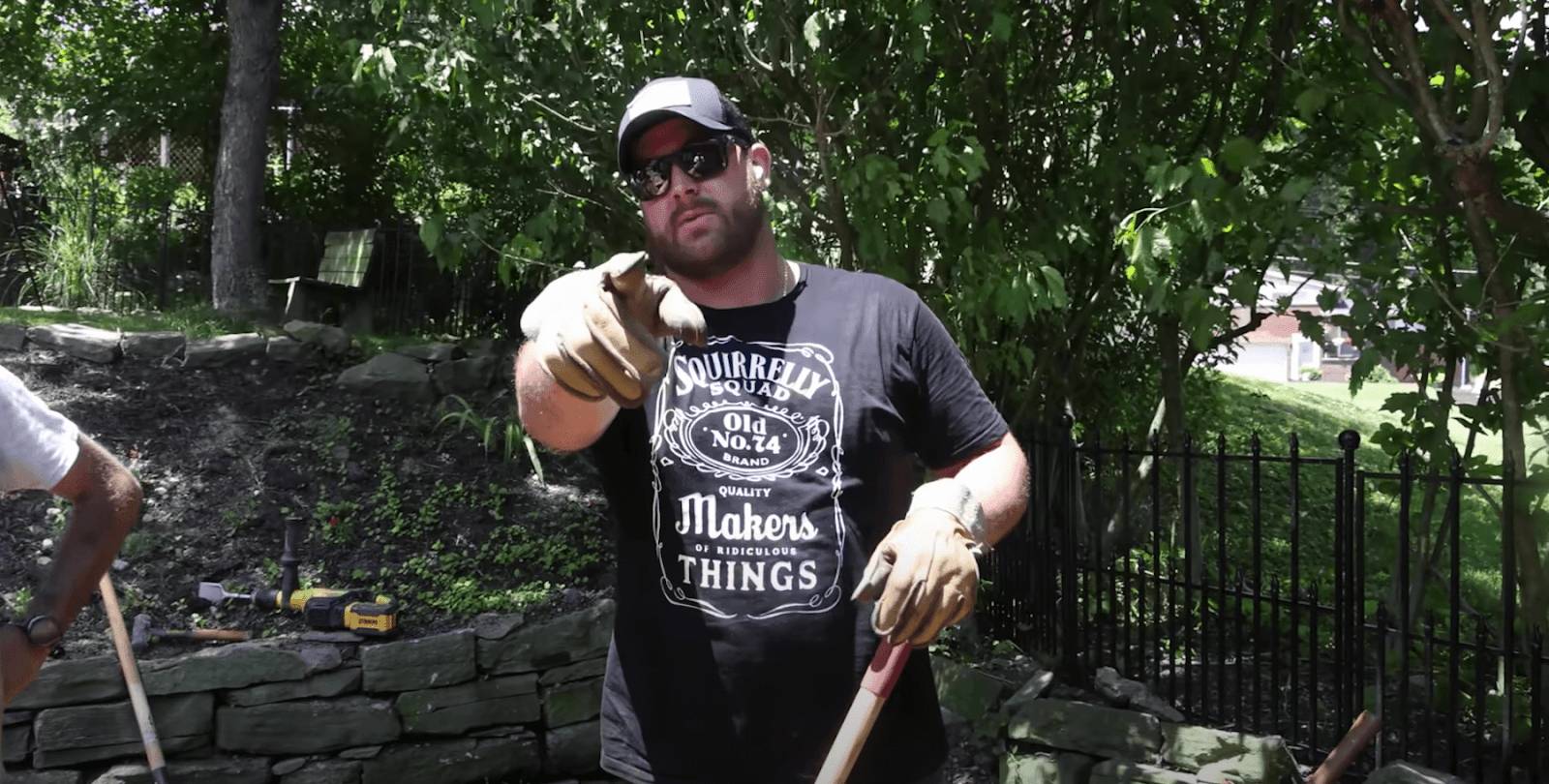 After we finished up our demolition in the last episode, it's now time to get cracking on the patio. Shout out to mother nature for letting the clouds open right up in Sam's backyard. We basically had a hillbilly swimming pool — maybe we should've ran with that idea instead. This episode is definitely an interesting one, and can us idiots figure out how to stamp concrete after that insane storm? Watch the full video to find out and learn how to win a Pit Boss grill of your choice.
Time to Get Squirrely With Some Cement and A Lot of Rain
The boys and John Malecki show you how to stamp concrete for an epic patio.
The gravel arrived, and it was time to prep the concrete. We got 5 tons of gravel — yep, 5 TONS. Jordan had a great time driving the Dingo and adding the gravel into the pit. We first dropped the initial gravel into the pit to build a ramp for the Dingo to get into the pit. Since we were paying for the Dingo, we wanted to use it as much as possible. So as Jordan was running in the gravel into the pit, Sam was raking it to even it out. 
After we got the 4 inches of gravel down, we had to tamp it to prepare for laying down the concrete. The professionals told us to lay down 4 inches of gravel underneath 4 inches of concrete, so we listened to them since they know more than us. Pro tip — hose down all of the gravel to get off all the dust and any other crap. When you're tamping the gravel, that extra dust will rattle around and make a huge dust cloud. 
And now this is where things go downhill. While we were at the store grabbing more supplies, it started torrential downpouring. Sam shoveled out as much of the water as he could, the rain finally stopped, and it was finally time to pour the concrete. This was a fun one, and you'll want to check out the full video to see how we managed to pull this one off.
Tools and Materials
John Malecki shows you what you need to complete your toolbox.
Below is a list of our top tools and materials. Most importantly, Jordan had so much fun with the Dingo during this episode. It was the easiest way for us to take the gravel from the pile in the front yard to the pit in the backyard. Other than that, Pitt Boss is the real hero here. We wouldn't be the men we are today without our incredible grills to smoke our meats to perfection. I also made some pretty insane ribeye steaks during this episode.
John Malecki Pit Boss Giveaway 2021
Big thank you to Pit Boss for allowing us to give away their newest grills and griddles to you guys! Make sure you watch the full video to find out how you can enter. We'll be giving these grills away during every episode of the series. 
Top Tools and Product Affiliates
Check out some of my top tools and product affiliates here. 
Extra Supplies
Check out some of my merchandise, build plans, and go-to safety glasses.
- Plans 
Thanks for watching and supporting me! If you liked this project, be sure to check out my merch and other projects here: 
‍
---