HUGE Desk & EPOXY Sign Build for WINCHESTER AMMO!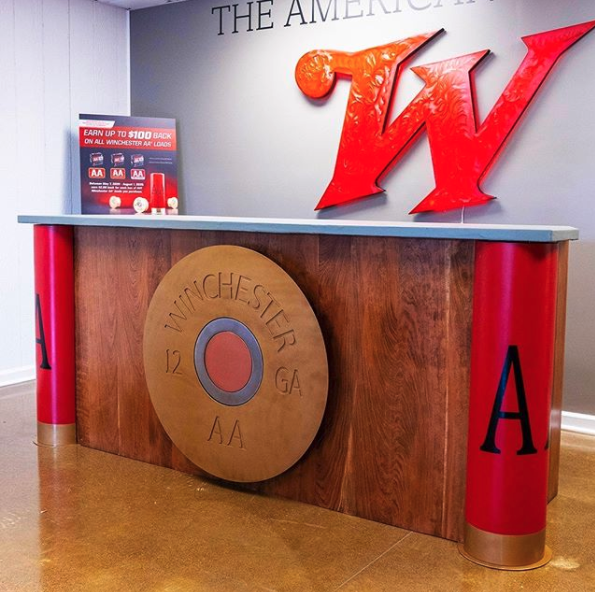 A few months ago, Winchester Ammunition reached out to me about doing a project together. So for this latest video, I'm going to build a HUGE desk and Epoxy sign for one of their shooting facilities in Ohio. As you can already see here, I'm not exaggerating. This desk was a monster. The Epoxy sign also adds a nice finishing touch. 
So follow me as I take on this challenging project for Winchester Ammunition! If you're following along at home or want to try it out for yourself, be sure to take a look at my video below.
HUGE Desk & EPOXY Sign Build for WINCHESTER AMMO!
For this project, I used northeastern cherry wood was that air-dried. This gives it a nice red hue. To assemble the carcass, I used brad nails and face screws. Once I finished the exterior carcass, I needed to put my interior panels on so I could mount the drawers. 
When you watch the video, you will see that instead of pocket holing everything together, I used pins and face screws. For me, cutting out the pocket holes takes too long. I also need to cut some notches into these so everything can slide in smoothly. Next up, I needed to start the concrete top of the desk. For this step, I used a melamine form. 
Make sure you take a look at my HUGE Desk & EPOXY Sign Build for WINCHESTER AMMO video for a full step-by-step breakdown of this crazy build! 
Tools and Materials
John Malecki Reviews the Tools and Materials He Used for This Build
This crazy build was sponsored by Woodcraft — a top destination for the best power tools and accessories in the country. For your next big woodworking project, make sure you head to Woodcraft for all of your supply needs. I also want to thank Timberland PRO for always supporting my crazy woodworking projects and being my number 1 resource for durable, high-quality boots. 
RAID: Shadow of Legends
Sam's been screaming at me lately because he keeps catching me playing Raid way more often than I should be. But it's so addicting and fun. If you don't know what it is, Raid: Shadow of Legends is an RPG turn-based game where you can battle against other bosses and players in a fantasy-based world. My favorite game mode is the Arena where you can fight PvP battles against other players, receive weekly rewards, and increase your ranking. 
Want to try it for yourself? Download Raid within the next 30 days and get a special starter park. 
Tools and Product Affiliates
Check out some of my top tools and product affiliates here. 
Powermatic 8-inch 2 HP 1-Phase Jointer with Helical Cutterhead
Bosch 12-Inch DB Glide Miter Saw
Festool RO 150 FEQ Rotex Sander
SawStop 5 HP Cabinet Saw 52-inch Industrial T-Glide Fence
Jet 20-Inch Helical Head Planer, 5 HP 1 Phase
Fein Slugger
Lincoln Electric Powermig 210 Mp
Baileigh Manual Magnetic Sheet Metal Box and Pan Brake
DEWALT 20V XR Brushless 4.5" Angle Grinder
General Finishes Enduro-Var Semi-Gloss Quart
Graco Ultra Cordless Airless Handheld Paint Sprayer
Minwaxc Polycrylic Water-Based Protective Finishes 
Canon EOS 80D Digital SLR Camera Body
Manfrotto Aluminum 3 Section Tripod Kit
Syrp Genie Pan Track Bundle
Extra Supplies
Check out some of my merchandise, build plans, and go-to safety glasses.
This was a badass project from start to finish. If you liked this HUGE desk and Epoxy sign build, you'll love these projects: 
- FLOATING Table Holds 100 Pounds! 
- IMPOSSIBLE Floating "Cave" Table Build
---