I Build an ADULT BABY BOUNCER!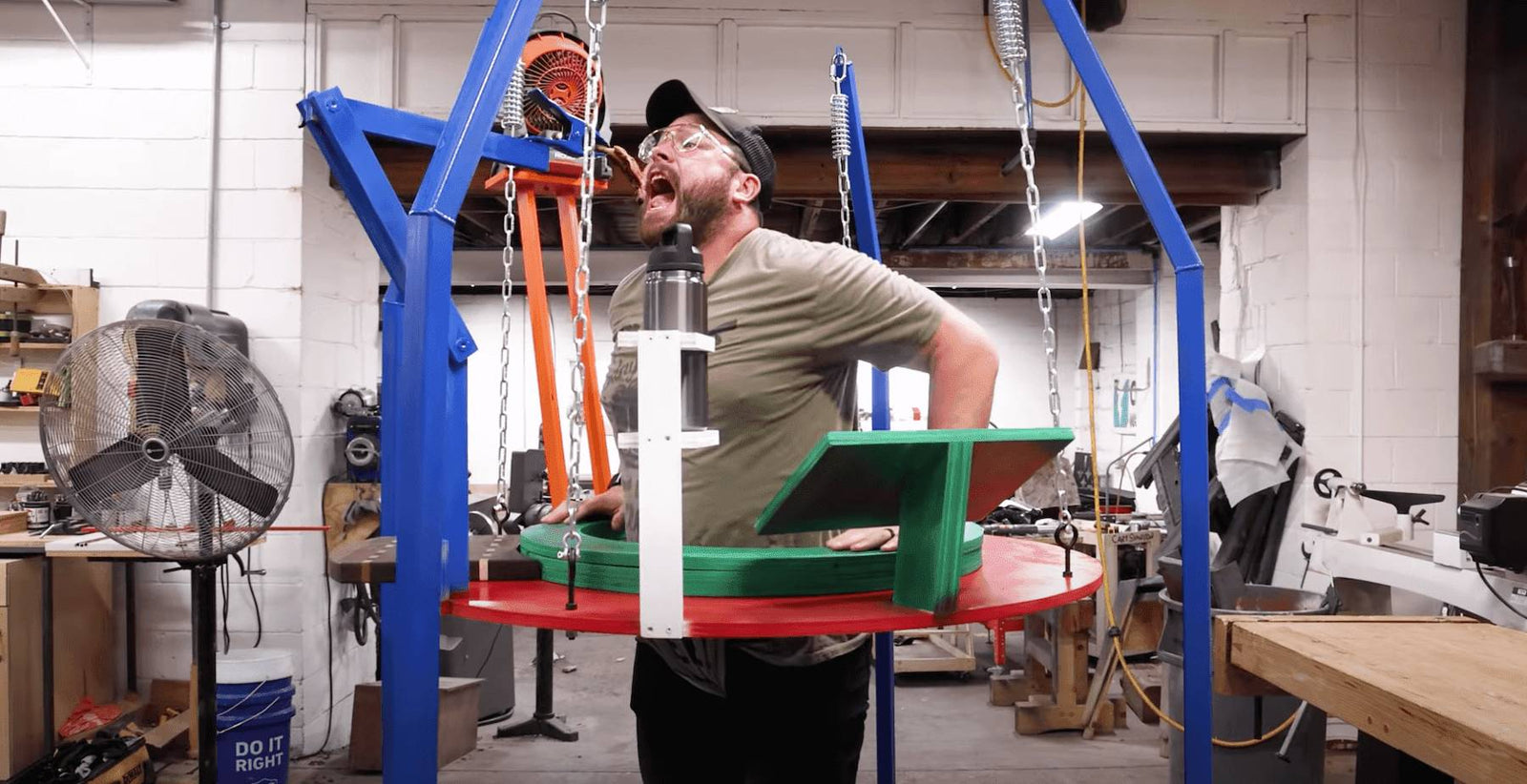 It's unfair that my baby girl gets to play in a bouncer, and there isn't one designed for adults — I want to have fun too! She is always laughing and having a great time in there, so why can't I? Of course, the baby version has a bunch of fun do-dads on there, so we'll be adding those to the adult version as well. If you think you've seen squirrelly before, you are going to be in for quite a treat while watching this build. Check out the full video to see how I managed to build a bouncer large enough for my beautifully constructed figure. 
My Baby Can't Have Fun Unless I'm Having Fun Too
John Malecki works his magic to create an adult-sized bouncer
First things first, we need a frame to put together our adult bouncer. Since I'm fat, the only option is to use metal for the frame. We broke out our welding gear, and it got pretty interesting. I've never welded pieces that were in the air, so this was new for me. Next, we plan to create a desk that is attached to the frame with chains. We use the CNC machine to get a perfect circle for the desk because it'll be far from perfect if we do it ourselves. While we were working on this, Jordan mentioned he wants to build a Formula 1 racecar, but that's not nearly as cool as this bouncer — right?
After we managed to use the chains to connect the desk to the frame, we figured out where to put my beer, ribs, and phone on this thing. To create the seat, I used a hoodie and cut the arms and hood off of it. My thinking? I should be able to put my legs through the armholes and use the round shape to cradle me. Now the big question is, did any of this stuff work out? You've got to see the full video to find out.
Tools and Materials
John Malecki shows you his favorite tools for building, along with his best baby gear
Below is my list of the top tools and materials we use for just about every build. But as a new dad, it's been vital for me to find the best baby gear for my little girl. Most gear is geared toward the mother, but Tactical Baby Gear offers an aesthetic and appeal perfect for dads like me — incredibly handsome and good-looking. Their products are also made to fit a dad body more than a mom bod, making it much more comfortable.
They've got products ranging from baby carriers to diaper bags and so much more. It allows me to spend quality time with my daughter, and she seems to be liking the gear too. If you are interested in anything from Tactical Baby Gear, use code MALECKI for 10% off your order.
Top Tools and Product Affiliates
Check out some of my top tools and product affiliates here. 
Extra Supplies
Check out some of my merchandise, build plans, and go-to safety glasses.
- Plans 
Thanks for checking out this video! Check out my channel for more good times and great tips. Here are a few epic projects: 
---