I Give Away $25,000 In Cutting Boards & A River Table!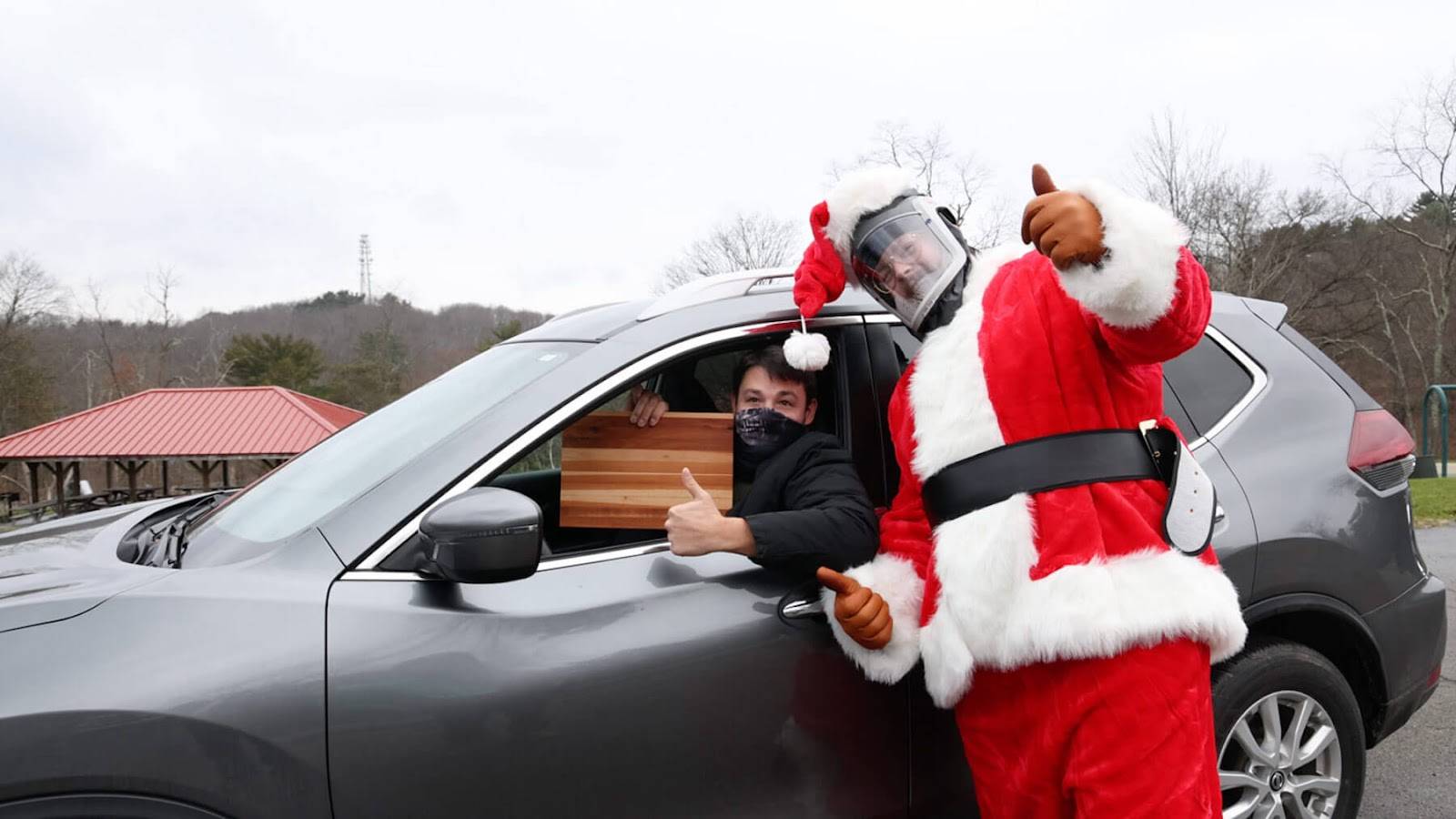 I'm forever grateful for those who have served and those who continue to serve. That said, it was important for me to incorporate the local Pittsburgh Veteran community into this giveaway. We showed up at a Veteran families' homes to give away some fresh table builds. 
After our Veteran giveaway, it was time to spread the holiday cheer with some cutting boards. I dawned the Santa Claus and channeled my inner Ho, Ho, Ho! We were overwhelmed with how many people showed up for the drive-thru giveaway. Someone must've called the cops because we ended up blocking traffic. It was all legal, though, thanks to our permit. Make sure you check out the full video to see how much stuff we can build with $25,000. 
I Make a Pretty Sexy Santa Claus If I Do Say So Myself 
The team builds cutting boards to give away, and I get to dress up as Santa.
We started with a bunch of off-cuts, which were mainly walnut. We cut everything up into strips, glued a bunch of things together, and that's a cutting board — well, the basics of it. After working on about 100 cutting boards, I wasn't satisfied. I just felt like we needed to give away more things. So, we decided to build a river table and two coffee tables. The team had a bunch of leftover walnut slabs in the shop that we could utilize for the tables. Everything turned out gorgeous, and we were so excited to get out there and give everything away.
We stopped by a few homes to give away the table to veterans, which was a great way to kick off the holiday season. Over an hour before we started our drive-thru giveaway for the cutting boards, we had cars lining up. We never expected you guys to show up like this — thank you! Check out the full video to see all of the builds and giveaways. 
Tools and Materials
John Malecki reveals what his favorite tools are for every build and adds an extra giveaway.
Below I have my list of materials that I love for every build we do, but I felt so wrong not to give away something to viewers that are not in the Pittsburgh area. We teamed up with OMAZE to give away a Ford Bronco! OMAZE is a company that partners with excellent foundations and brands to raise awareness for special needs. We are specifically raising money for mental health awareness — what's better than that and the chance to win a Ford Bronco? Enter for a chance to win the truck AND $20,000.
Top Tools and Product Affiliates
Check out some of my top tools and product affiliates here. 
Extra Supplies
Check out some of my merchandise, build plans, and go-to safety glasses.
- Plans 
Thanks for checking out this video! If you liked these tips, check out my channel for more great tricks and insane builds. Here are a few epic projects: 
‍
---