I Make a Guitar From BULLETS & EPOXY for Mat Best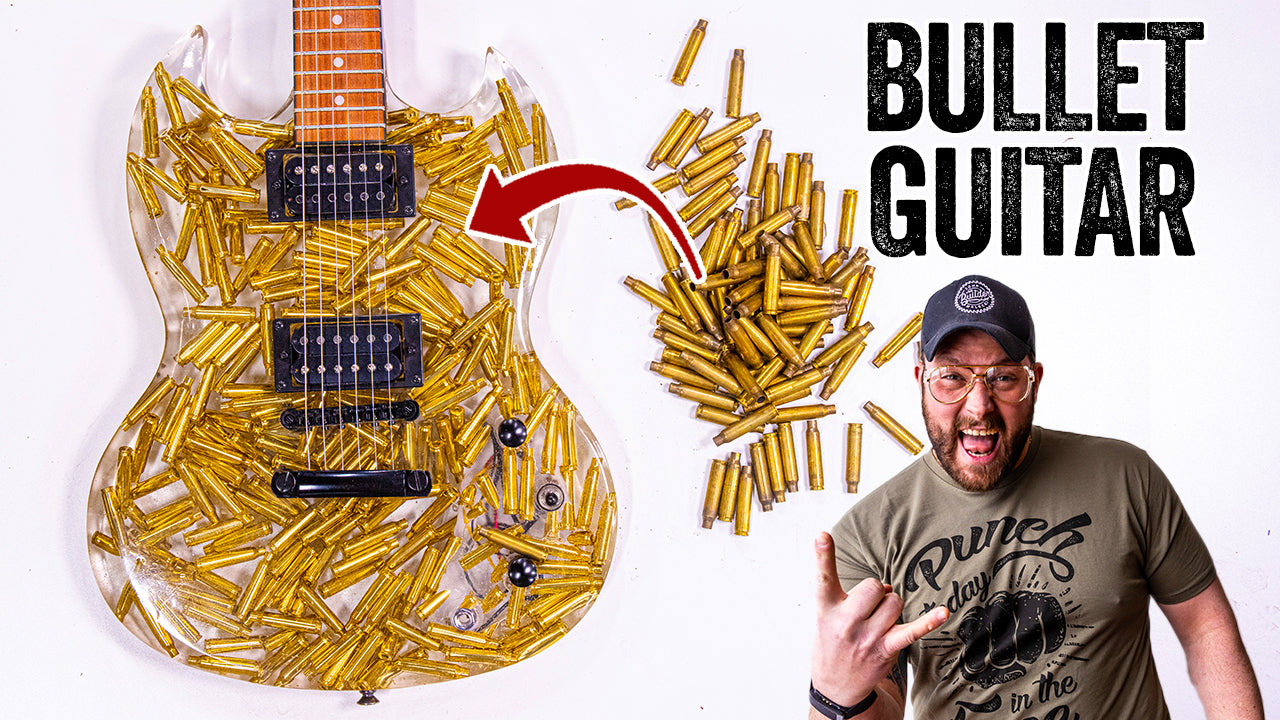 Now this project is EPIC. Two years ago, we built Black Rifle Coffee Company their conference table, and I told them that I would have a surprise for Mat Best. Maybe it took two years, but we FINALLY did it! After an insane year, we did it. It was one of the most challenging projects we've ever tackled, but it was well worth it. Check out how we could build a guitar from bullets and epoxy by watching the full video.
Coffee, Bullets, and Epoxy — What Do They All Have In Common?
John Malecki takes you through this epic build for Black Rifle Coffee Company. 
The biggest issue with this project was that I've never built a guitar. So before I could even start with the build, I bought a guitar to figure out how to emulate it. I used the guitar's body to cast a casting to then make a mold — are you confused yet? We took apart the guitar, taped off some pieces of it, and then used aluminum flashing to build a little dam for our silicon mold. After that miraculously working out, we added the bullets and epoxy into the mold.
For the neck of the guitar, Sam and Jordan wanted to make it a little more custom than any plain old guitar neck. While they were ruining irreplaceable parts, I started to design a case for this sick guitar build. Find out if Mat Best thinks this is the BEST gift he ever received by checking out the entire video.
Tools and Materials
No build would ever get done without our caffeine — it's our most important tool. 
Below I've linked all of the tools we use and recommend for every build, including this one. But when I say we would never be able to build again without our caffeine fix, I mean it. Honestly, we wouldn't be able to get much done without our coffee from Black Rifle Coffee Company. Their Ready to Drink Coffee is their new canned espresso drink made with coffee-forward flavors, premium ingredients, and 200mg of caffeine. Ready to get pumped with coffee delivered right to your door? Use code BRCC-RTD15 for 15% off your order! 
Top Tools and Product Affiliates
Check out some of my top tools and product affiliates here. 
Extra Supplies
Check out some of my merchandise, build plans, and go-to safety glasses.
- Plans 
Thanks for watching and supporting! If you liked this project, be sure to check out my channel and other projects here: 
‍
---