IMPOSSIBLE Floating 'Cave' Table Build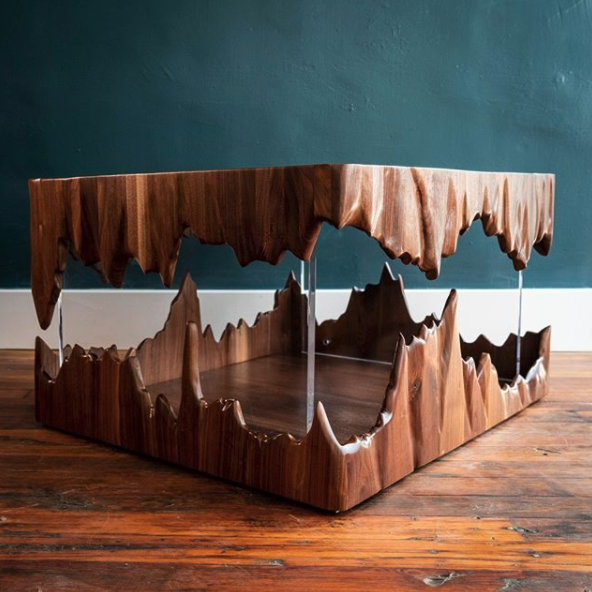 The other weekend, I was filling my face with the best comfort food around and binging hours of YouTube videos when I came across this wild build by the Slovenian Woodworker. I took one look at his innovative "floating" coffee table and realized I needed to make my own floating cave table build. For my coffee table, I wanted to make it look like a cave. This meant I had to do a ton of gluing and cutting to achieve my vision. 
So follow me as I take on one of my craziest challenges yet! If you're following along at home or want to try it out for yourself, be sure to take a look at my video below.
IMPOSSIBLE Floating "Cave" Table Build
I started my build off by cutting a bunch of strips from large slabs of wood. Next, I cut the strips into 18-inch parts so I could fit them inside my 20-inch wide planer. A few mistakes happened along the way, but that didn't stop me from pulling off this crazy build. After gluing the strips together, I began to make the cutting boards. For the final steps, I needed to carefully assemble all of the pieces together. 
Overall, this was a fun and challenging build that I can't wait for you guys to watch. 
Tools and Materials
John Malecki Reviews the Tools and Materials He Used for This Build
This crazy build was sponsored by Woodcraft — a top destination for the best power tools and accessories in the country. For your next big woodworking project, make sure you head to Woodcraft for all of your supply needs. I also want to thank Timberland PRO for always supporting my crazy woodworking projects and being my number 1 resource for high-quality boots. 
How You Can Improve Your Own Woodworking Skills
Want to learn a new skill? Of course, you do. Skillshare empowers viewers by teaching them everything from video editing practices to tips for managing a freelancing career. I highly recommend trying it out if you want to make yourself a more lucrative job candidate or just want to learn something new. 
The idea for the floating table idea came from the Slovenian Woodworker. Check out his floating coffee table video after you finish watching mine.
Tools and Product Affiliates
Check out some of my top tools and product affiliates here. 
Fein TURBO II Turbo
Bosch 12-Inch DB Glide Miter Saw
Festool Router OF 1400 EQ
Forrest Woodworker III 10-inch 40 Tooth
Jet 20-Inch Helical Head Planer, 5 HP 1 Phase
Fein 4.5" Angle Grinder
Lincoln Electric Welding Helmet
Baileigh Manual Magnetic Sheet Metal Box and Pan Brake
DEWALT 20V XR Brushless 4.5" Angle Grinder
High-Performance Polyacrylic Satin General Finishes
Rubio Monocoat Component Oil Finish Pure
Minwaxc Polycrylic Water-Based Protective Finishes 
Extra Supplies
Check out some of my merchandise, build plans, and go-to safety glasses.
This was definitely a challenging, but fun build. If you liked this CRAZY Epoxy waterfall river table build, you'll love these projects: 
- FLOATING Table Holds 100 Pounds! 
- IMPOSSIBLE Floating Table Build
- IMPOSSIBLE 2 Legged Chair Build
---