IMPOSSIBLE Floating "Flame" Chair Build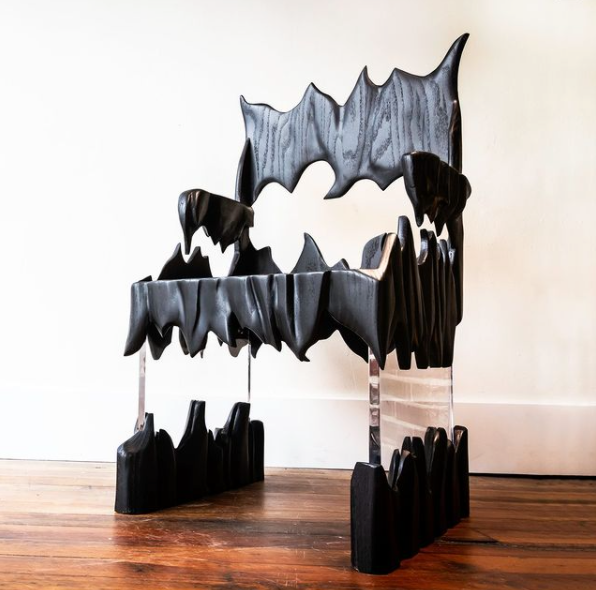 So, from what I can gather, yinz REALLY loved the cave table. And then you kind of liked the tensegrity chair. But regardless of what you thought of either chair, I decided to combine the two to make the ultimate floating cave chair. The cave chair ended up turning into a FLAME chair and I got my ass kicked with all of the power carving and sanding, but love how spooky this build turned out. Let's get started! 
IMPOSSIBLE Floating "Flame" Chair Build
Some of you have requested that I make a 3D model of my projects like other builders. But this chair is too ridiculous and there's a 0% chance I could model it. So I made a 2D drawing instead. Anyway, for this build, I'm going to make some sides with acrylic in order to support the chair's structure. Using one live edge slab, I'm going to build the armrests and back. 
After I finish cutting up the slab, I need to create a bunch of laminations. From the laminations, I will be able to assemble the chair. That said, I've never done this before and I'm kind of scared and excited at the same time. 
Make sure you check out my full video to see the entire build from start to finish! 
Tools and Materials
John Malecki Reviews the Tools and Materials He Used for This Build
For this project, I used a single oak slab, did some power carving, and added a CRAZY finish to the final product. To help assemble the chair, I used some sturdy clamps and glue. I also put on my go-to safety glasses to protect my eyes before getting started. It was definitely a challenging project, but it was worth all of the hard work. If you're looking for new plans or tools for your next project, check out some of my favorite brands to work with below! 
Shop Cart Plans:
Ready to start building? Purchase one of my plans here! 
Proudly Supported By: 
I am proudly supported by Woodcraft, one of the top destinations for the best power tools and accessories in the country. As always, I also want to thank Timberland PRO for supporting my crazy woodworking projects and being my number 1 resource for durable, high-quality boots. Recently, I partnered with Bits & Bits. For over 30 years, Bits & Bits has manufactured top-of-the-line CNC cutting tools for woodworkers like you and me.
Other Builds:
If you liked this build, check out my other videos! 
‍
---