TRANSFORMING Windows to French Doors - EPIC Deck Series Pt.6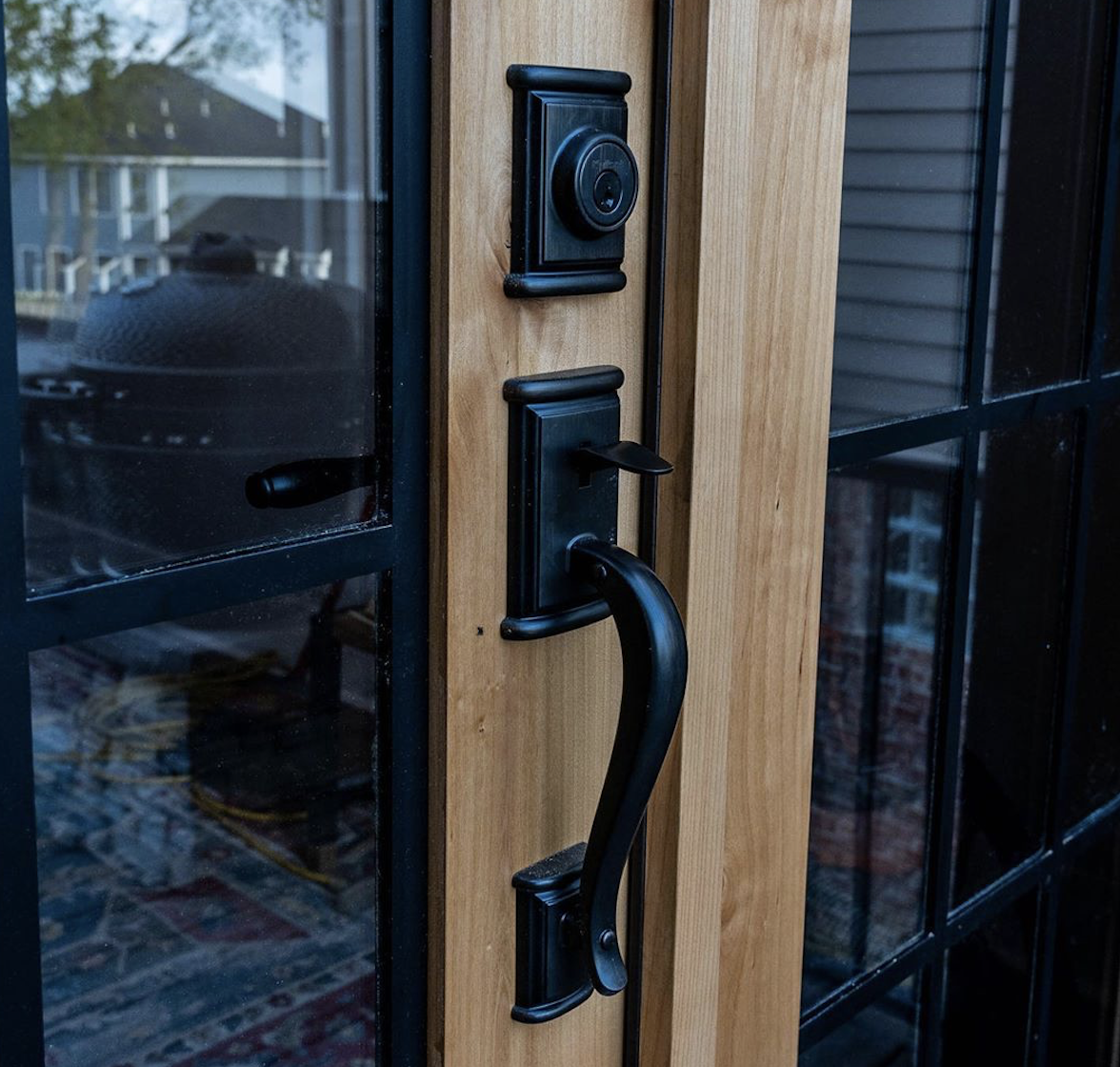 Hey guys! Part 6 of my EPIC deck building series is FINALLY here! For this last episode, I need to transform my old windows into a pair of french doors. If I don't, I have no way of getting inside the house. So you could say that this is a pretty crucial part of my deck building process. 
So follow me as I take on part 6 of my deck-building series! If you're following along at home or want to try it out for yourself, be sure to take a look at my video below.
TRANSFORMING Windows to French Doors - EPIC Deck Series Pt.6
The boys from B&B Masonry came by to put the lentil in. The brick is really old, so they had to come in and repoint it. I helped whenever necessary, but they're pretty good at getting the job done at a quick pace. 
After we replaced the lentil, I started prepping the doors to get them in. I didn't build them myself. Instead, I linked up with Rustica Hardware. They weren't 100% finished when they came, so I needed to mill them before placing them in. Once all of that was done, I needed to remove the windows. 
Thanks for checking out the sneak peek to this part of my EPIC deck series! Don't forget to follow along with the full video and watch this epic build go down!
Tools and Materials
John Malecki Reviews the Tools and Materials He Used for This Build
I want to give a shout-out to Woodcraft for sponsoring this EPIC video series. Woodcraft is the go-to destination for the best power tools and accessories in the country. For your next big woodworking project, make sure you head to Woodcraft for all of your supply needs. I also want to thank Timberland PRO for always supporting my crazy woodworking projects and being my number 1 resource for durable, high-quality boots. 
BITS & BITS
Recently, I partnered with Bits & Bits. For over 30 years, Bits & Bits has manufactured top-of-the-line CNC cutting tools for woodworkers like you and me. You can use my link to check out their stuff and get 15% off your next purchase with code MALECKI15. 
Tools and Product Affiliates
Check out some of my top tools and product affiliates here. 
Extra Supplies
Check out some of my merchandise, build plans, and go-to safety glasses.
- Plans 
Deck Build Parts 1, 2, 3, 4 and 5
Don't forget to check out the rest of my Deck Series videos: 
- Building an EPIC DECK Pt. 1 — Demolition 
- Building an EPIC DECK Pt. 2 — Framing
- Building an EPIC DECK Pt. 3 — Decking & Waterproofing
- Building an EPIC DECK Pt. 4 — Stairs & Railings
- Building an EPIC DECK Pt. 5 — OUTDOOR KITCHEN
---