ULTIMATE & EASY Router Table Build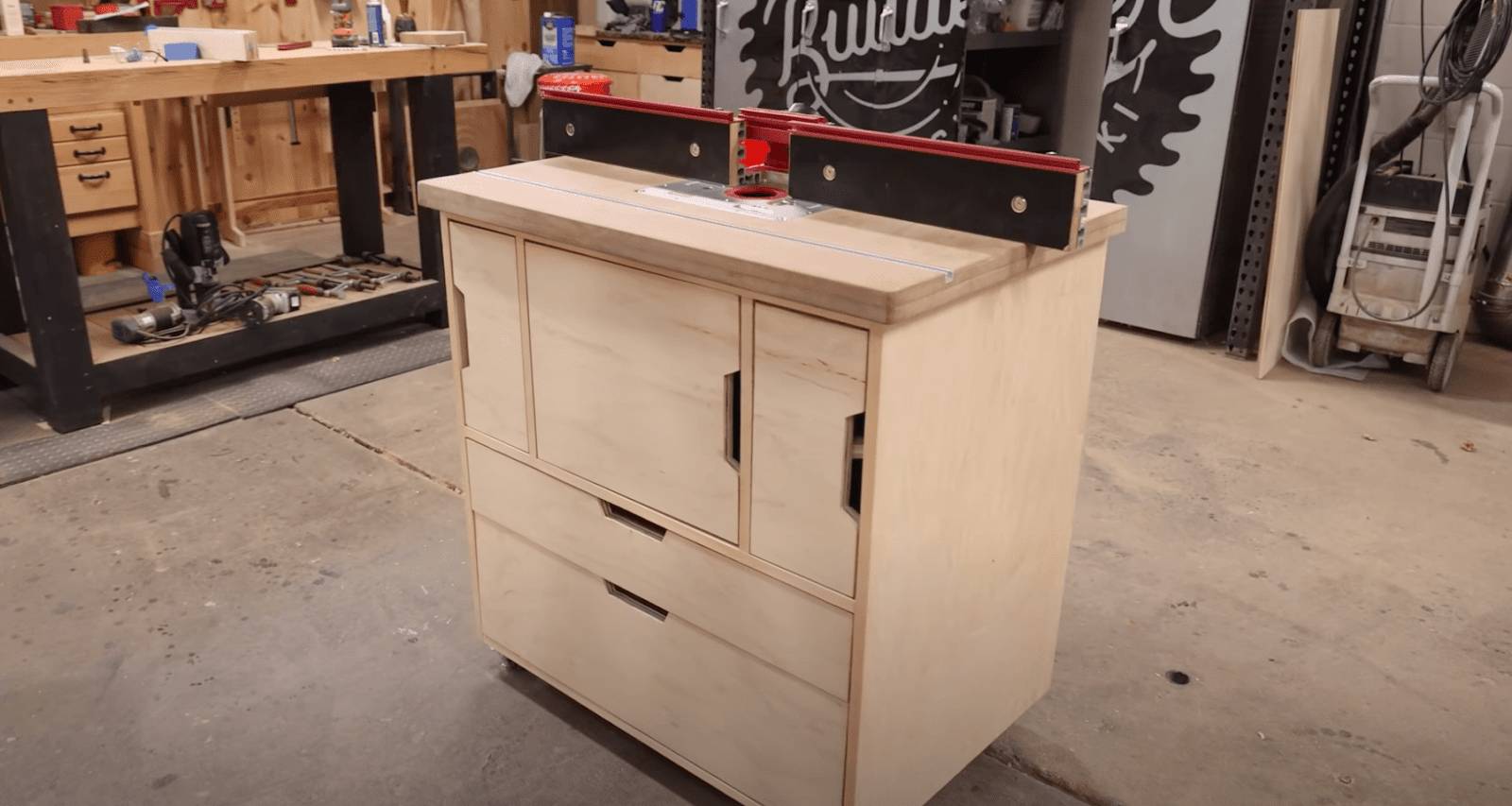 Just like most shops, we have a router table. Since we are idiots with power tools, we ended up breaking said router table. While we waited on the parts to fix this one, I decided to build a brand new one. We like having two anyway and could use better storage, so it's a win-win situation. We've got a downloadable plan for our DIY Router Table for you to use if you want to recreate the router table we are building on this episode. With a few bumps in the road, ours turned out pretty dang beautiful. Make sure you check out our full video to get a few tips before starting on your router table. 
DIY Router Table: Get Organized and Practice Your Cabinetry Skills at the Same Time
With basic joinery and techniques, this would make a great addition to any shop.
To get started on this simple build, we cut out the top of the router table. We decided to go a little bit oversized on the router table because why not. We used veneer backing for our build, but you could easily swap that out using every clamp you have in your shop. I snagged a new pocket hole machine to get a cleaner hole, which was perfect for this build. After we made the pocket holes, we threw together the carcass and added a few finishing touches. Of course, everything did not go as planned, but we somehow pulled it all together in the end. 
This build would've been a lot more complicated without our basic router table plan, and we are in the business of making things as simple as possible. Our digital plan comes with a 14 page PDF with detailed instructions and drawings, measurements, and parts and cuts list. Make sure to grab your downloadable plan and watch the entire video to build an ultimate router table for your shop.
Tools and Materials
John Malecki tells you where he purchases his favorite products for every build.
We couldn't get this build done without any of our favorite tools, along with our downloadable plan. Not only does the plan give you the exact cut and material list, but there is also an exploded view that lists out where each piece is in the build. First, you will assemble the case with the correct wood pieces that match the cut list — the cut list has everything clearly labeled. Next up is the dust collection section that includes stretchers, a dust port, dividers, and shelves. On the plan, there is a detailed description of how your drawers should look when building the next section, the bit storage drawer. Lastly, you'll be able to glide your drawers into your router table with ease. It's that simple!
Here are the materials from the plan that you will need:
1 sheet — ¾" plywood
1 sheet — ¼" plywood
1 sheet — ¾" MDF
8 BF — 4/4 hardwood (20% waste has been added)
4 pair — drawer glides 22" long
4EA — locking 3" casters
Router lift of your choice
*Note board foot quantities have been rounded up to the nearest board foot. 
We purchase almost all of our tools and materials at Woodcraft, the go-to store for all things woodworking. For this particular build, I loved the pocket hole machine we grabbed from there. Of course, any machine would work, but this one was just so smooth. Check out the rest of our favorite tools that you can purchase below.
Top Tools and Product Affiliates
Check out some of my top tools and product affiliates here. 
Extra Supplies
Check out some of my merchandise, build plans, and go-to safety glasses.
- Plans 
Thanks for checking out this video! Check out my channel for more good times, and make sure to download your router table build plan. Here are a few other epic projects: 
‍
---