ULTIMATE Fishing Kayak Trailer Build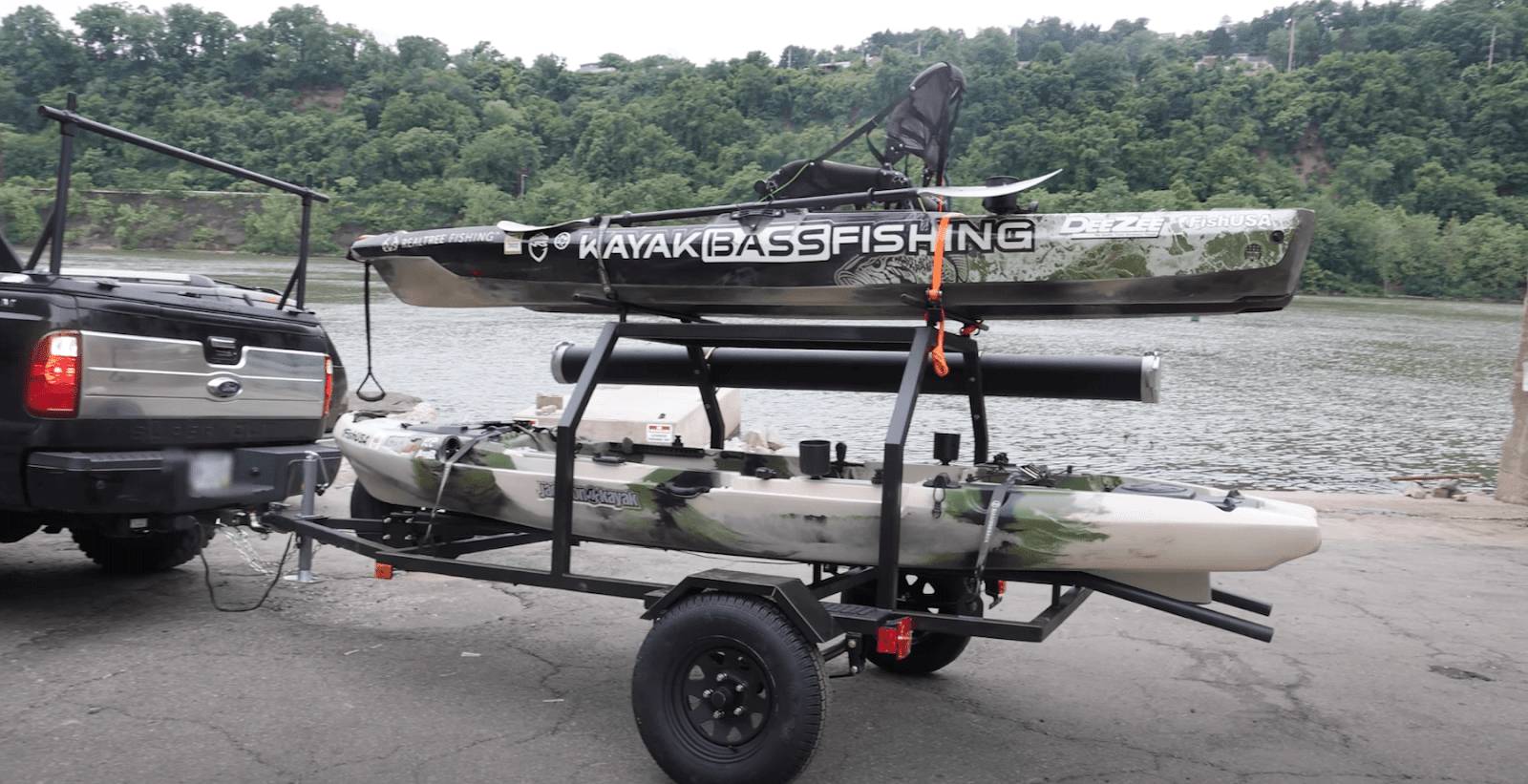 If you follow me on Instagram (subtle plug), you know that I like to fish. When I get the free time to get around to fishing, I want to do it from a kayak. We're meeting up with our buddy Chad Hoover, the man behind Kayak Bass Fishing, for this build. Not only are we meeting up with him to get some content, Chad and I have a surprise in-store for Sam. This build is going to be a fun one, and you can even win your own kayak! So check out the full video to see how our build goes and how you can enter to win your own kayak. 
Me and Sam Just Want to Go Fishing Together
John Malecki finds a way to have one trailer for two kayaks.
We had a trailer that I bought online that was too small for the build, so we are using the tires and a few other parts, but we basically need to build an entirely new trailer. I'm glad to be back in the metal shop, and after sketching up the basics, this should be a relatively simple build — hopefully. Pro tip: ALWAYS wear your welding jacket, no matter how hot it is in the shop. You don't want one of those nasty burns. I don't care how tough you are — your skin is sensitive. I worked corner to corner for this trailer and wanted to make sure that it was strong because it will carry a lot of weight.
We had to get a little squirrely with the build to work in the parts we already had from the too-small trailer. After figuring that one out and putting the axel together, it was 100% illegal in the state of Pennsylvania — nice. Well, at least we can use it for some bicep curls. We ended up buying a new axle and making a pretty badass kayak trailer. Check out the entire build and Sam's surprise by watching the full video.
Tools and Materials
Find out what John Malecki uses for builds and how you can become a master in the shop too.
Below are our top products for any build, but we have to shout out Lincoln Electric for this one. We had to create custom brackets that couldn't have been possible without our new machines from Lincoln Electric. With these new tools, you'll definitely be seeing some more metal builds in the future. They've got a ton of machines at a ton of different price ranges, so all you builders, from garage warriors to a top-level shop, can have great quality products for all your builds.
Top Tools and Product Affiliates
Check out some of my top tools and product affiliates here. 
Extra Supplies
Check out some of my merchandise, build plans, and go-to safety glasses.
- Plans 
Thanks for watching and supporting me! If you liked this project, be sure to check out my merch and other projects here: 
---