ULTIMATE Shop Storage Cabinet Build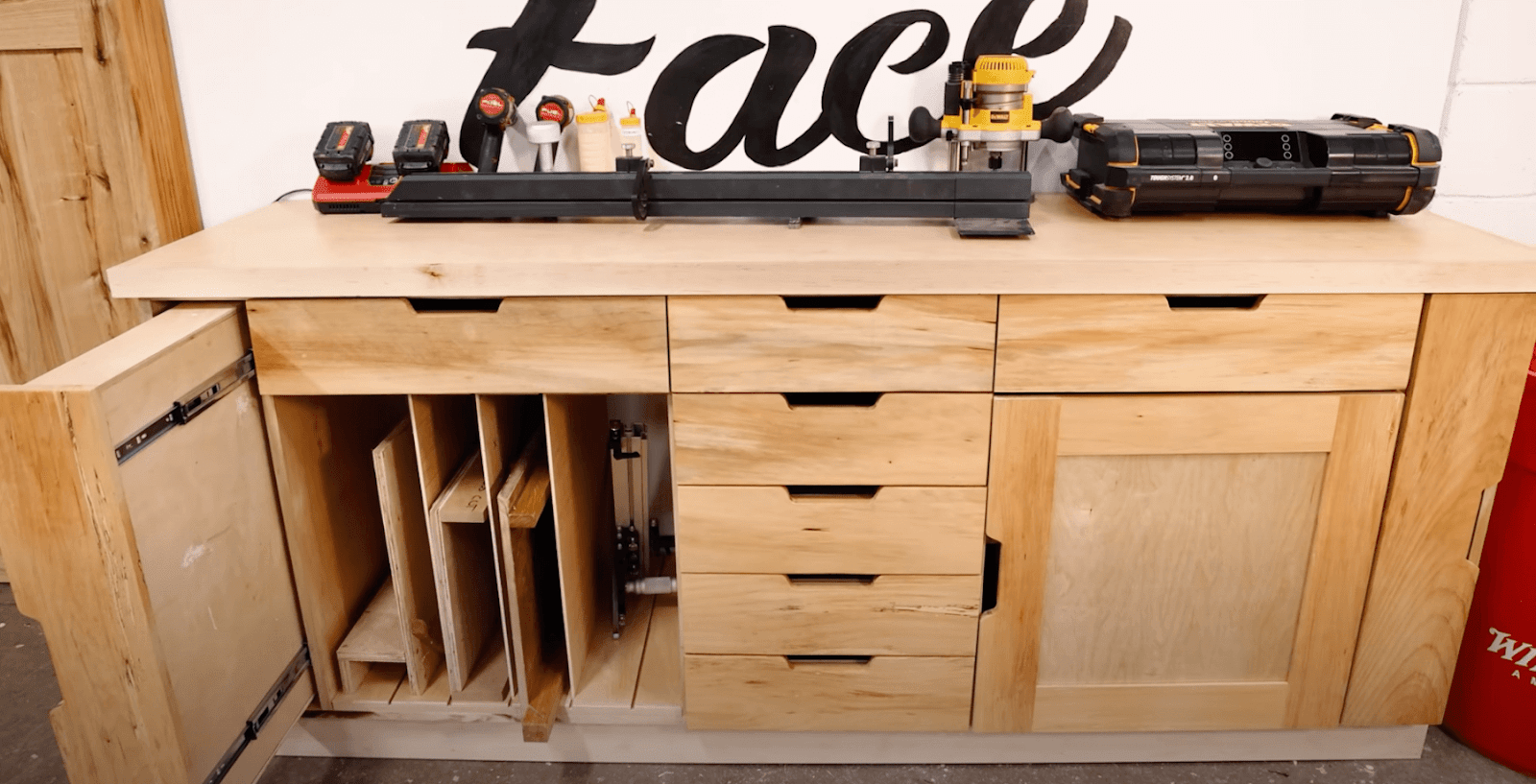 It's been quite a while since I've done a shop project, and there's no better time than the winter to get things organized. In this video, I build the ultimate shop storage cabinet. From vertical drawers, dividers, and pull-outs, we will load this thing with features. Our shop has collected a bunch of junk, so this project was just what the doctor ordered for us. Yeah, because that's precisely what doctor's orders usually look like in real life. Get ready to get organized and watch the full video to be inspired to organize. 
Go Nuts and Organize Your Entire Shop With This Plywood Cabinet Build
This cabinet has plenty of storage to store tools and enough surface area to work on top. 
For this modular storage cabinet, I went with seven drawers and two vertical pull-outs. You're going to need plywood for this build — like, a lot of plywood. Because I don't necessarily love the look of plywood, I did a hardwood edge band on everything to make it a bit sexier. This project includes a little bit of everything from full overlay cabinet doors, drawers, edge banding, biscuit joints, and more.
If you are looking to build this storage cabinet, you definitely should — there's no need to guess how you will do it. I've put together a digital plan to help you out with all of the insane and valuable features we are packing into this project! With a 24-page PDF that includes detailed drawings, just about anyone could handle this one. Download the entire plan here. Good luck! Make sure to watch the full video to find out a few tips and tricks before you get started. 
Tools and Materials
John Malecki reveals the tools and materials he used for this project. 
We would never have put this build together without our digital plan, so that's the ultimate tool for this project. We also couldn't do this one without all of the tools and materials we purchased at Woodcraft, our go-to store for all things power tools and accessories. For our CNC cutting tools that we love so dearly, we wouldn't survive without Bits & Bits — use code MALECKI15 to receive 15% off your order. With winter around the corner, I also have to shout out the best boots out there! Timberland PROs are fantastic for keeping your feet warm in the snow and protected in the shop. Check out the rest of my favorite tools and materials below. 
Top Tools and Product Affiliates
Check out some of my top tools and product affiliates here. 
Extra Supplies
Check out some of my merchandise, build plans, and go-to safety glasses.
- Plans 
Thanks for checking out this video! Check out my channel for more good times and great tips. Also, don't forget to look at all of the downloadable plans we have to offer. Here are a few epic projects: 
‍
---