We Build A Soundproof Room in the Dream Shop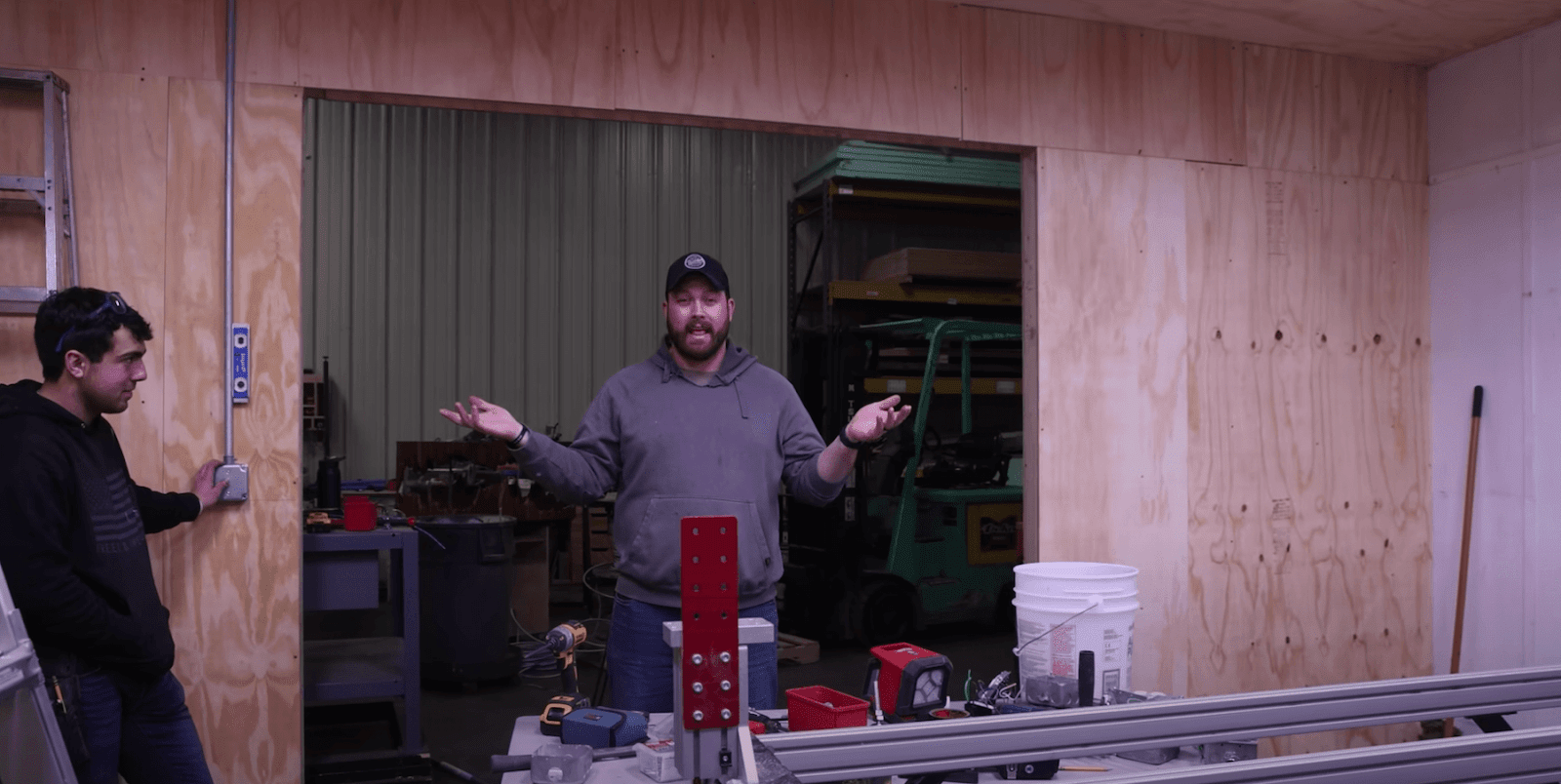 The CNC machine can get annoying from time to time, and with all the space we have in this new shop, we are building a soundproof room. I can't wait to use this to keep the shop a little quieter, and it'll also be the perfect place for us to let out any anger we have. It's really a two-in-one type of room. I'm so thankful we can keep improving our shop and giving you more and more epic projects. Check out the full video to see how we made this soundproof room in case you need one too. 
This Room is Perfect to Let Out Any Screams of Frustration
The boys get started on creating their dream shop a reality
First up, we got our delivery from 84 Lumber shipped to our shop, and it was time to get started. To run the power to the rest of the shop, we have to have the CNC room done — which is why this is first on the list. When we were planning, we had to consider that the CNC machine is pretty wide, and our doors aren't. So we had to brainstorm our plan, but I think we figured something out ​​— emphasis on "I think." 
Things definitely got squirrelly through the process, but when doesn't it. You should always keep in mind that no 2x4 is straight. Even the nice ones have a little bit of a curve to them, so you want to be conscious of that. Figure out which way it's curving and point the curves downwards. This tip will make everything a lot less miserable. Did it work out for us? Watch the full video to find out. 
Tools and Materials
John Malecki gives insight into the tools and materials he recommends 
Below are all the tools and materials we recommend for setting up your shop for success. One of the most important parts of any job is ensuring that your materials are top-notch. With 84 Lumber, that's never even a question. They've got stores all over the place and are extremely helpful. Sam and I walked in, told them our problems, and solved them for us. In addition, they've got an insane selection of lumber and will come out to the yard to help you out. We highly suggest 84 Lumber for whatever your next project may be! 
Top Tools and Product Affiliates
Check out some of my top tools and product affiliates here. 
Extra Supplies
Check out some of my merchandise, build plans, and go-to safety glasses.
- Plans 
Thanks for watching and supporting me! If you liked this project, be sure to check out my merch and other projects here: 
---