We Build & Destroy a $10,000 Desk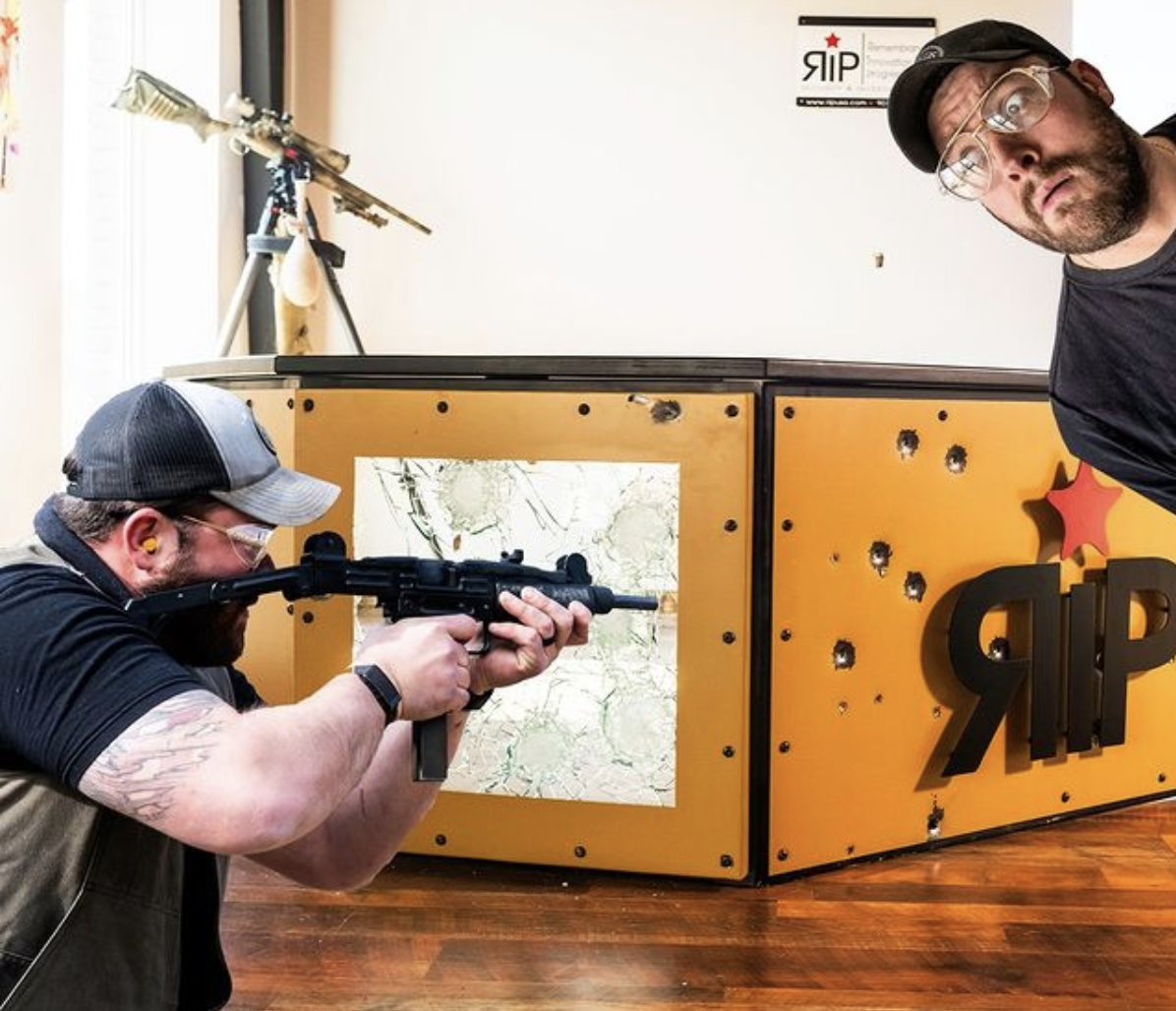 So, the team over at RIP invited us over to their office because they're looking for a new desk. Right now, they're using a drab plastic table as a "desk." Since that's not going to cut it, we're building them a new one. Once everything was said and done, we built a custom desk worth $10,000. And then we destroyed it. It was a pretty fun project. Follow along with my video now to watch it all go down!
‍
We Build & Destroy a $10,000 Desk
I wanted to build a desk that mimicked the style of a hummer or a military vehicle while also using a color scheme unique to the RIP image. After discussing my ideas with the RIP team, I decided to create a desk that looks like an MRAP. It's going to be sick. 
The first thing I need to do is weld up a metal frame. Next, I'll need to build the panels and tack them together. The boys are going to place armor plating onto the desk to help us achieve that tactical MRAP look. Once they finish up, we're going to make the interior frame assembly. Then, I'm going to spray the frame with Montana gold and make the logo for the desk. I want to make them removable which means I'll need to lay it out, punch holes through it, create mounts, and add some bolts. Before I bestow RIP with their new desk, I'm going to shoot some holes into it. You'll want to watch the video for this part. 
Overall, it was a pretty EPIC experience. Check out the full video to see the whole build!  
Tools and Materials
John Malecki Reviews the Tools and Materials He Used for This Build
For this project, I used a combination of maple wood and metal. A lot of Bondo and paint were also used to give the desk a nice tactical look. As always, I also put on my favorite safety glasses before getting down to work.  
Shop Cart Plans
Ready to start building? Purchase one of my plans here!
Proudly Supported By: 
I am proudly supported by Woodcraft, one of the top destinations for the best power tools and accessories in the country. As always, I also want to thank Timberland PRO for supporting my crazy woodworking projects and being my number 1 resource for durable, high-quality boots. Bits & Bits is another sponsor that I am happy to have. For over 30 years, Bits & Bits has manufactured top-of-the-line CNC cutting tools for woodworkers like you and me.
Pew Pew Projects
If you like our Pew Pew Projects, check out these other videos:
‍
---