We Finish the Staircase — The Race To Finish Before The Baby Comes!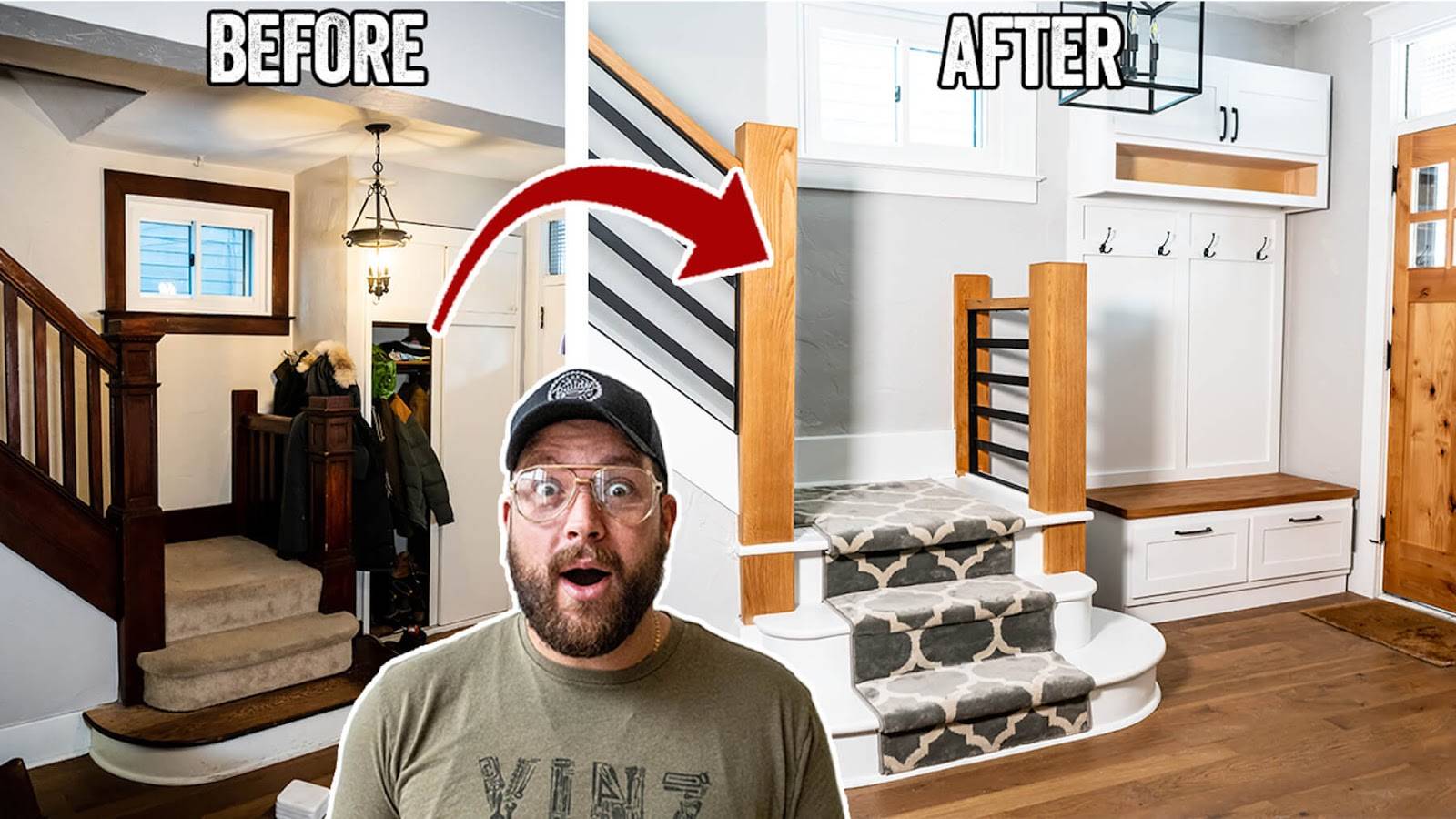 Okay, so maybe we did have 3 weeks of setbacks and cold temperatures. You know what? We still got this bad boy finished! Since we're up against the clock because my beautiful wife is about to give birth, these setbacks kind of rained on our parade. After some major squirreliness, we finished everything. Well, not EVERYTHING, just the stairs and the entryway. The renovation turns out pretty epic, and we have to race to finish everything else in the house next. Check out the full video to see the idiots with power tools somehow manage to pull this off. 
What the Hell Did We Get Ourselves Into
John Malecki starts his home renovation with his baby on the way
The first thing on our extremely long list was fixing the trim above the entryway door. We are putting in a brand new door and want the casing to match as well. After that, we put in the staircase railings and stained them with some of the best smelling stuff. Jordan even tried to lick the stain to see if it tastes good, so yeah, we're still idiots. Then, Sam was convinced that I didn't buy the right runner for the space — who was right? Sam was, unfortunately. This was where the boys kind of went wild while I was out buying a new runner.
When I got back, it was time to figure out this carpeting. We had a really fun idea to buy a carpet with a pattern that we had to make sure lined up perfectly. We somehow managed to pull that off and moved on to the bench and locker area. We got this thing looking AMAZING. Check out the entire video to see the end result.
Tools and Materials
John Malecki shows you his favorite tools and materials for every build
Below is the list we put together of our favorite products for just about every build we do. For this particular project, our favorite product was the stain we used for the stair railing. Rubio is a wood finish that may be on the pricey side, but it's worth every penny. It not only smells good and is non-toxic, but it also leaves your wood looking incredible. There is nothing better. 
Top Tools and Product Affiliates
Check out some of my top tools and product affiliates here. 
Extra Supplies
Check out some of my merchandise, build plans, and go-to safety glasses.
- Plans 
Thanks for watching and supporting me! If you liked this project, be sure to check out my merch and other projects here: 
---