We RESCUE A Huge Log and Have A Big Problem!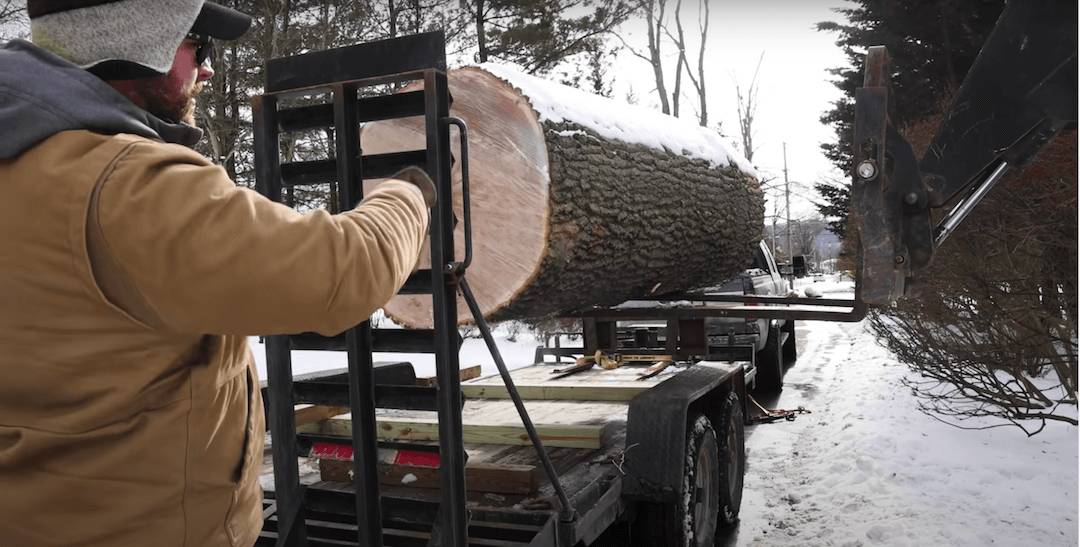 Ever wonder why people pay for logs instead of picking them up themselves? Tune into the latest video from the Squirrely Squad to find out! 
Turns out, picking up 8,000 to 9,000 lb logs with a telehandler is single digit weather more difficult than we thought. But, even adverse conditions can't stop our team from getting the job done. Keep watching for future videos to see what we end up doing with the gigantic log we rescued!
How to Rescue a Huge Log
Come along with us as we try, fail, and try again to rescue this massive oak
Our journey rescuing a large 50" oak tree started with a lead from Jason. An oak log this big is too major for our team to pass up — so we set out on the road to get started. It was a balmy 7 degrees as we hooked up the trailer set out to pick up the log. When we arrived at the location,  I was disappointed to find that they did not save the tree stump. Keeping our streak of good luck, we also had difficulty getting the telehandler started on site because of the cold.
Once we got the telehandler up and running, it was time to get started transporting the massive segments onto the truck. To do this correctly you have to be extremely precise, which is not necessarily our strong suit, but we get it done regardless. Once we got the log segment to precisely roll to the center we were ready to secure it with lots of chains and blocks. 
But, that was just one of the many segments we have to still transport. So, we raced against daylight to load up the rest of the tree and get it back to the Dream Shop. Morale was seriously waning at this point, but we never gave up, not even after one of the log segments rolled off of the telehandler!
Now that we have the log back at HQ, it's time to figure out what we want to do with it. We either need to buy or build our own mill, which as yinz know is a HUGE project. So, if you wanna see how we figure it out, stay tuned to our Youtube channel every Monday. 
Tools and Materials We Used
Find out what we used to get such a big log from point A to point B
Picking up a log that weighs upward of 8,000 lbs takes some heavy equipment. To get the logs back to the Dream Shop, we rented a telehandler capable of transporting the log. To keep the hands warm in the cold temperatures, I shared one of my pro tips from the football days — wear a neoprene glove underneath your outer gloves. The inner glove insulates your hands, even in 7 degree weather, plus you can avoid looking like you're about to go skiing. My Timberland Pro Hoodie also kept me warm working outside all day long. 
Apart from the heavy equipment like the telehandler and our truck, the only other things we used during transport are the chains, blocks and pure man power. Since the logs are so large, we needed extra chains and blocks to keep everything secure during our trip back home.
And there yinz have it! Everything we used to rescue a massive log! Check out the links below for more information about our team and the Dream shop, and keep watching to see what we decided to do with the rescued log. 
Top Tools and Product Affiliates
Check out some of my top tools and product affiliates here. 
Extra Supplies
Check out some of my merchandise, build plans, and go-to safety glasses.
If you like tree harvesting and milling check these out! 
Thanks for watching and supporting me! If you liked this project, be sure to check out my merch and more from the dream shop!
---