Workshop Cooking — BEEF CHILI with Beer (Episode 002)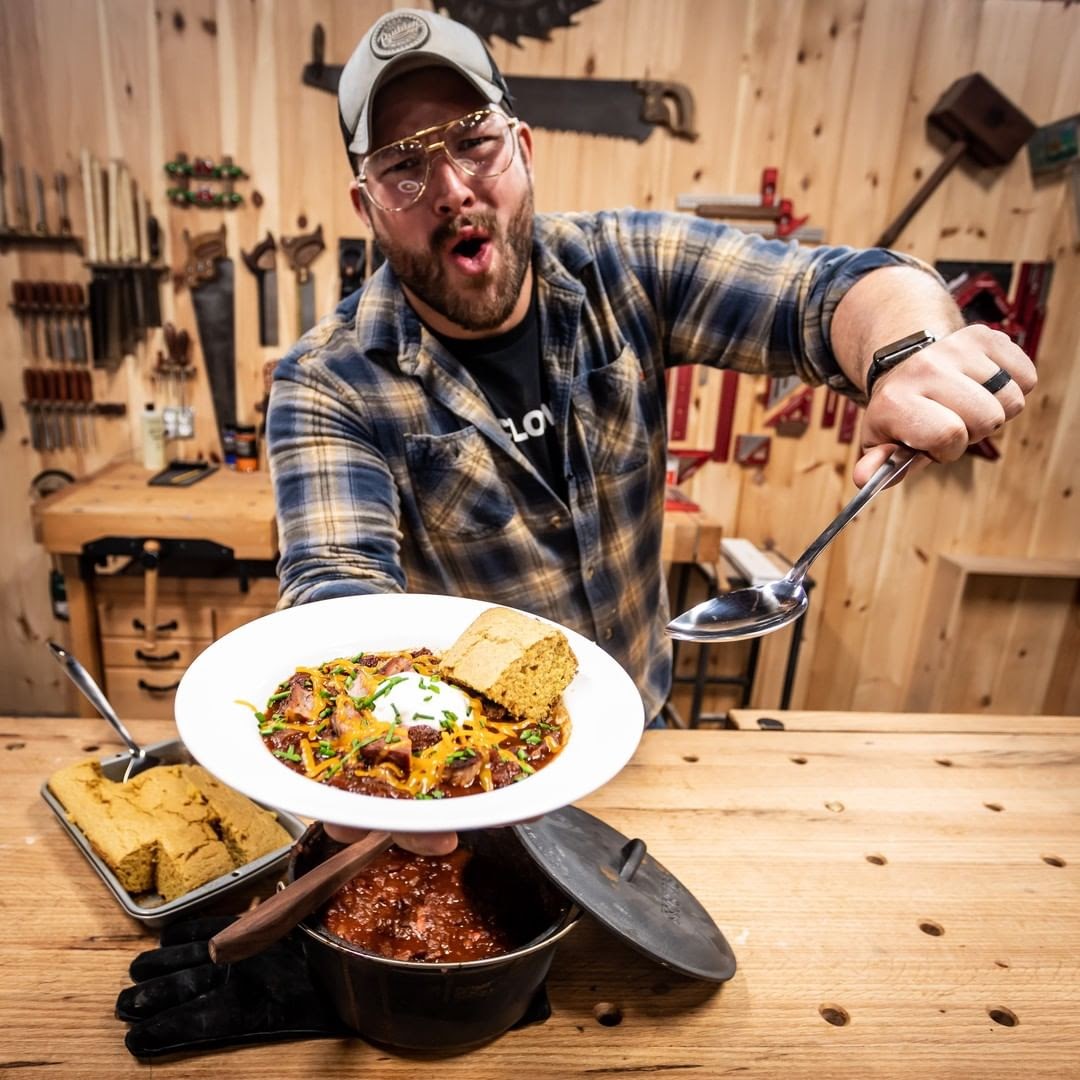 Hey guys! I'm bringing you ANOTHER episode of my Workshop Cooking series. For this one, we're cooking up a Killer Chili that had two of my employees in tears and one of them calling their mom to tell her how delicious it is. Right now, it's cold outside and I'm HUNGRY. Let's get started. 
Follow me as I cook up some DELICIOUS beef chili to fill my empty belly with! If you're following along at home or you want to try it out for yourself, make sure you check out the full video below.
Workshop Cooking — BEEF CHILI with Beer EP 002
For this chili, we're going to change it up a bit from what most people perceive as "chili." We're not going to cook the ground beef in the pan. We're going to go for a chunkier type of chilii. So I'm going to cut up a slab of sirloin tip roast, season it, throw it on my new Pit Boss® smoker, and then drop it into the chili sauce. For the seasoning, I'm using Kosmos SPG Rub and Cow Cover.  
While the meat heats up, we're going to prep some vegetables. We'll be cooking on the grill with a cast iron Dutch oven. For my chili, I'm going to chop up some onions, garlic, and peppers. With my Tormach, I'm going to sharpen up my knife and get to it. At one point, I realize that I need a wooden spoon, so I take a quick breather to make one in the workshop! 
Once I have all of my ingredients prepped, it's time to mix them all together! To finish off my beef chili, I'm going to pour some Yuengling lager for extra flavor.  
Overall, this was a fun recipe to make and I enjoyed every bit of my DELICIOUS beef chili! Make sure you watch the whole video so you can see the process from start to finish! 
Tools and Materials
John Malecki Reviews the Ingredients and Tools He Used for This Recipe
I want to give a shout-out to Woodcraft for sponsoring my EPIC Workshop Cooking series. Woodcraft is one of the top destinations for the best power tools and accessories in the country. I also want to thank Timberland PRO for always supporting my crazy woodworking projects and being my number 1 resource for durable, high-quality boots. With winter around the corner, I'll need by Timbs now more than ever! 
Ready to cook up some of your own chili? Make sure you check out my full recipe below! 
Recipe for the Chili Sauce
⅓ cup chili powder
2 tsp paprika
2 tsp oregano
2 tsp kosher salt
½ tsp cumin
2 12 oz. canned crushed tomatoes drained
12 oz. can kidney beans drained
6 oz. canned peppers in adobo
6 oz. dark beer 
Vegetables, Garnishes, and Seasoning
1 fresh onion
6 cloves of fresh, minced garlic
Peppers
Sour cream 
Chives
Cheddar 
Tri-tip steak seasoning
BITS & BITS
For over 30 years, Bits & Bits has manufactured top-of-the-line CNC cutting tools for woodworkers like you and me. You can use my link to check out their stuff and get 15% off your next purchase with code MALECKI15. 
Tools and Product Affiliates
Check out some of my top tools and product affiliates here. 
Extra Supplies
Check out some of my merchandise, build plans, and go-to safety glasses.
- Plans 
---