Workshop Cooking - CHEESEBURGER & FRIES Ep 001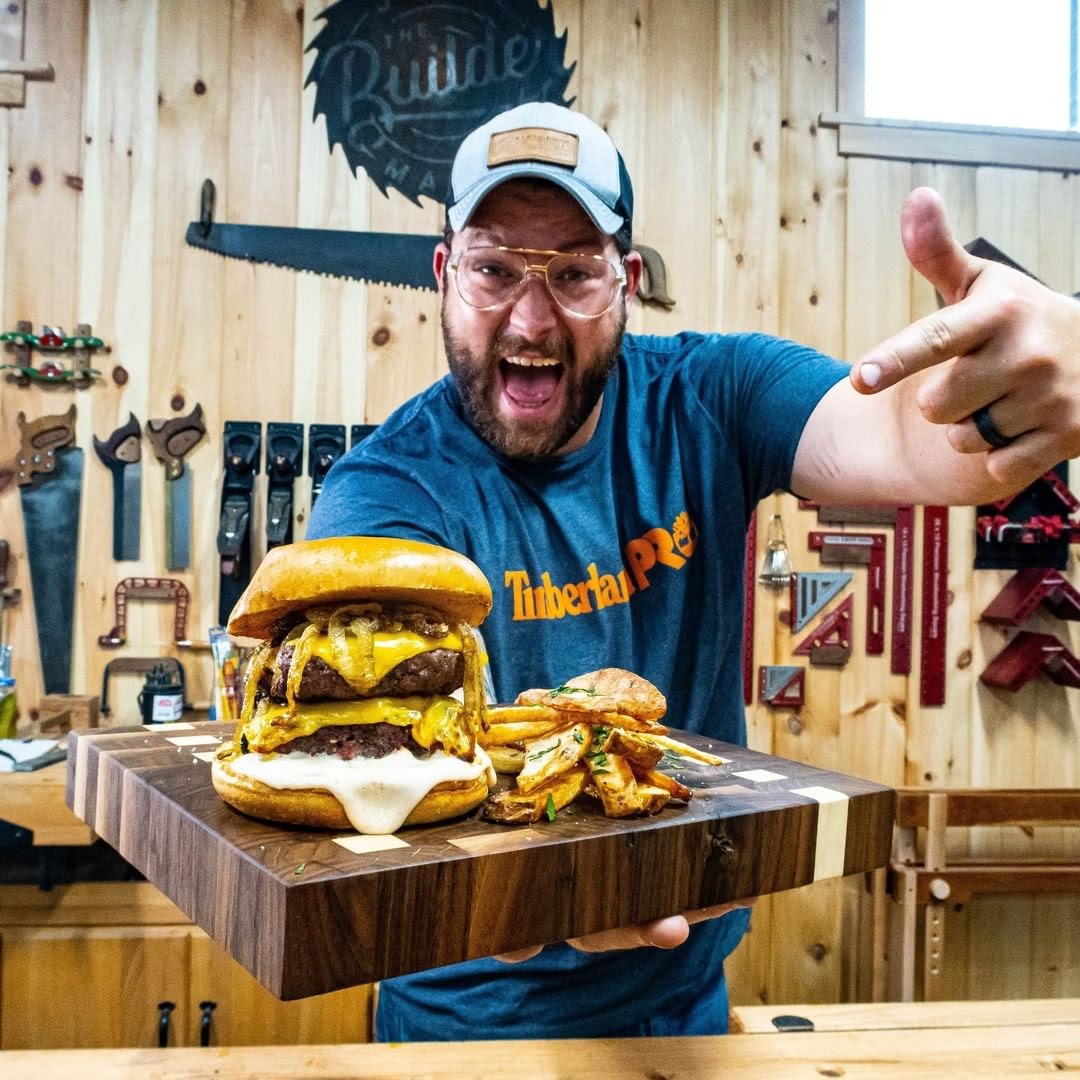 In this video, I'm going to be making something a little different in the shop — a cheeseburger and a plate of fries! I always like to say that if I didn't play professional football, I would probably be a chef. Well, you're about to see my cooking skills up close. Using only my grill and some basic cooking utensils, I am going to whip up a mean meal. As you're about to see, with a little ingenuity and an empty stomach, you can make almost anything from your shop.
So follow me as I cook up a classic meal to fill my belly with! If you're following along at home or want to try it out for yourself, be sure to take a look at my video below.
Workshop Cooking - CHEESEBURGER & FRIES Ep 001
I've been dreaming about putting some cooking on my YouTube channel, and it's finally here! 
For episode one, we're going to make this whole meal on a grill with a little bit of cast iron and some ingenuity. To start, I'm going to slice up some russet potatoes and get them cooking on the grill. It will probably take around 20 minutes for them to cook. Don't forget to wash and dry them before throwing them on the grill!
As for the burger, I'm first going to whip up some special sauce. You can check out the full recipe below, but it's a mixture of:
Mayo 
Ketchup
Dijon Mustard
Chopped Dill Pickle
Salt & Pepper
Before cooking up the beef, I'm just going to season it with some salt and pepper. Since I'm in the shop, I'm not going to use a regular skillet. Instead, I'm throwing it on the grill. Make sure you watch the whole video so you can see the process from start to finish! 
Tools and Materials
John Malecki Reviews the Tools and Materials He Used for This Build
I want to give a shout-out to Woodcraft for sponsoring this EPIC video series. Woodcraft is the go-to destination for the best power tools and accessories in the country. For your next big woodworking project, make sure you head to Woodcraft for all of your supply needs. I also want to thank Timberland PRO for always supporting my crazy woodworking projects and being my number 1 resource for durable, high-quality boots. 
Recipe for the Secret Sauce
Want to know how to make my signature sauce? Mix up these ingredients below! 
- 1/4 Cup Mayo 
- 2 TBS. Heinz Ketchup 
- 1 TBS. Dijon Mustard
- 2 TBS. Chopped Dill Pickle 
- 1 Tsp. Salt & Pepper each
BITS & BITS
Recently, I partnered with Bits & Bits. For over 30 years, Bits & Bits has manufactured top-of-the-line CNC cutting tools for woodworkers like you and me. You can use my link to check out their stuff and get 15% off your next purchase with code MALECKI15. 
Tools and Product Affiliates
Check out some of my top tools and product affiliates here. 
Extra Supplies
Check out some of my merchandise, build plans, and go-to safety glasses.
- Plans 
---