WORLD'S FIRST Double Decker Desk Build!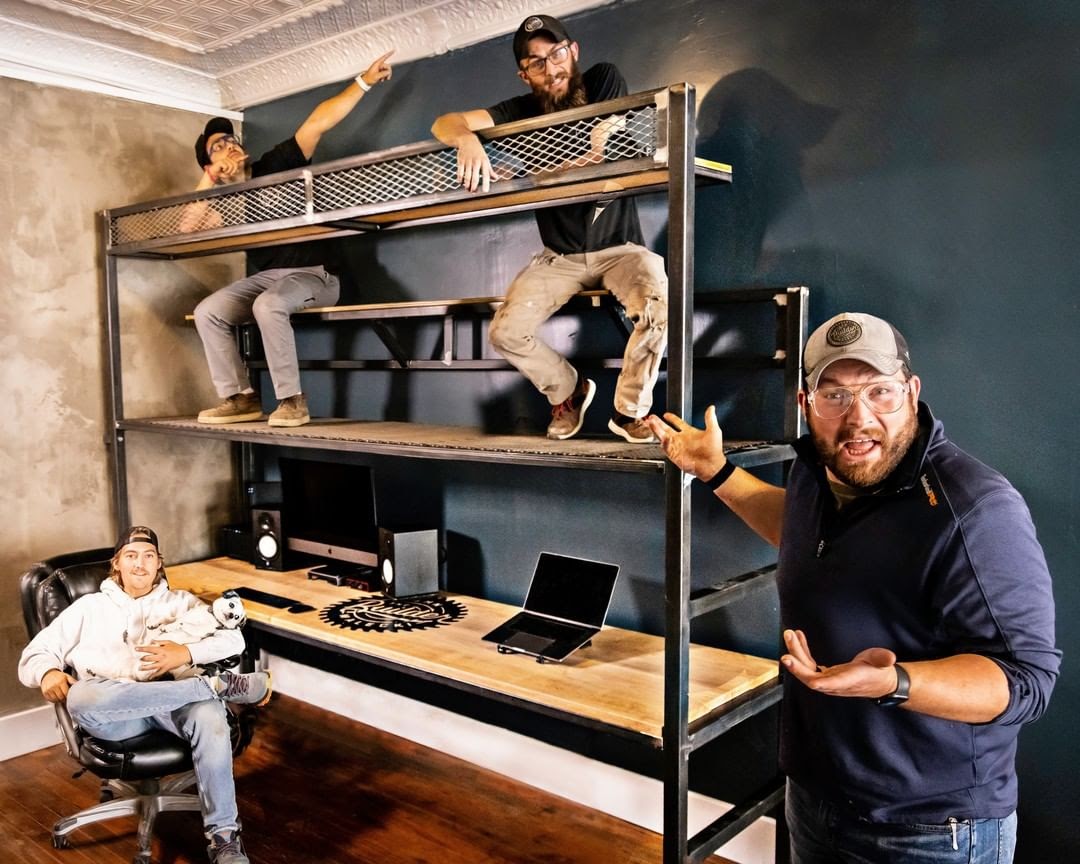 Hey guys! If you've been following my videos, you probably noticed how the team and I have been starting to lose our minds lately. So I decided to add a new team member! But with another member comes the need for more desk space. To solve this problem, I drew inspiration from the EPIC double decker couch seen in The Lego Movie. Follow me as I build the world's FIRST double decker DESK!
WORLD'S FIRST Double Decker Desk Build
To make sure the desk is strong and sturdy, we'll be doing a lot of welding and minimal woodwork. We'll be using 2-inch tube frames on the outside and an inch and a half-inch tube on the inside. Out of a sheet of expanding metal, we will make a platform. 
I'll be doing the build in parts in order to make it more manageable. This will also help me when I need to transfer it into another room. Next up, we need to work on the framing assembly for the interior of the desk. So that includes the platform to stand on and the platform to work on. While I work on welding the parts together, Sam and Joe will be making the actual desktop out of wood. 
And that's it! Make sure you follow the whole video so you don't miss anything.
Tools and Materials
John Malecki Reviews the Tools and Materials He Used for This Build
This video was sponsored by Lincoln Electric. At Lincoln Electric, you can find reliable, high-quality welding and cutting equipment. Before your next project, make sure you stop by Lincoln for all of your welding needs. 
I am proudly supported by Woodcraft, one of the top destinations for the best power tools and accessories in the country. I also want to thank Timberland PRO for always supporting my crazy woodworking projects and being my number 1 resource for durable, high-quality boots. With winter around the corner, I'll need to get some new Timbs! 
BITS & BITS
Recently, I partnered with Bits & Bits. For over 30 years, Bits & Bits has manufactured top-of-the-line CNC cutting tools for woodworkers like you and me. You can use my link to check out their stuff and get 15% off your next purchase with code MALECKI15. 
Tools and Product Affiliates
Check out some of my top tool suggestions and product affiliates here. 
Extra Supplies
Check out some of my merchandise, build plans, and go-to safety glasses.
- Plans 
Industrial Projects
If you like industrial projects, you're going to love these videos!
- 60L Industrial River Table Build
---